One of the first suburbs of Newcastle – proclaimed in 1871 – Wickham had a council that oversaw the satellite settlements of Carrington, Islington, Maryville, and Tighes Hill.
I didn't know Wickham was Newcastle upon Tyne's "Whickham" misspelt. Maybe our version of the name means not "village by the creek" but "village by the mangrove swampland" it grew out of.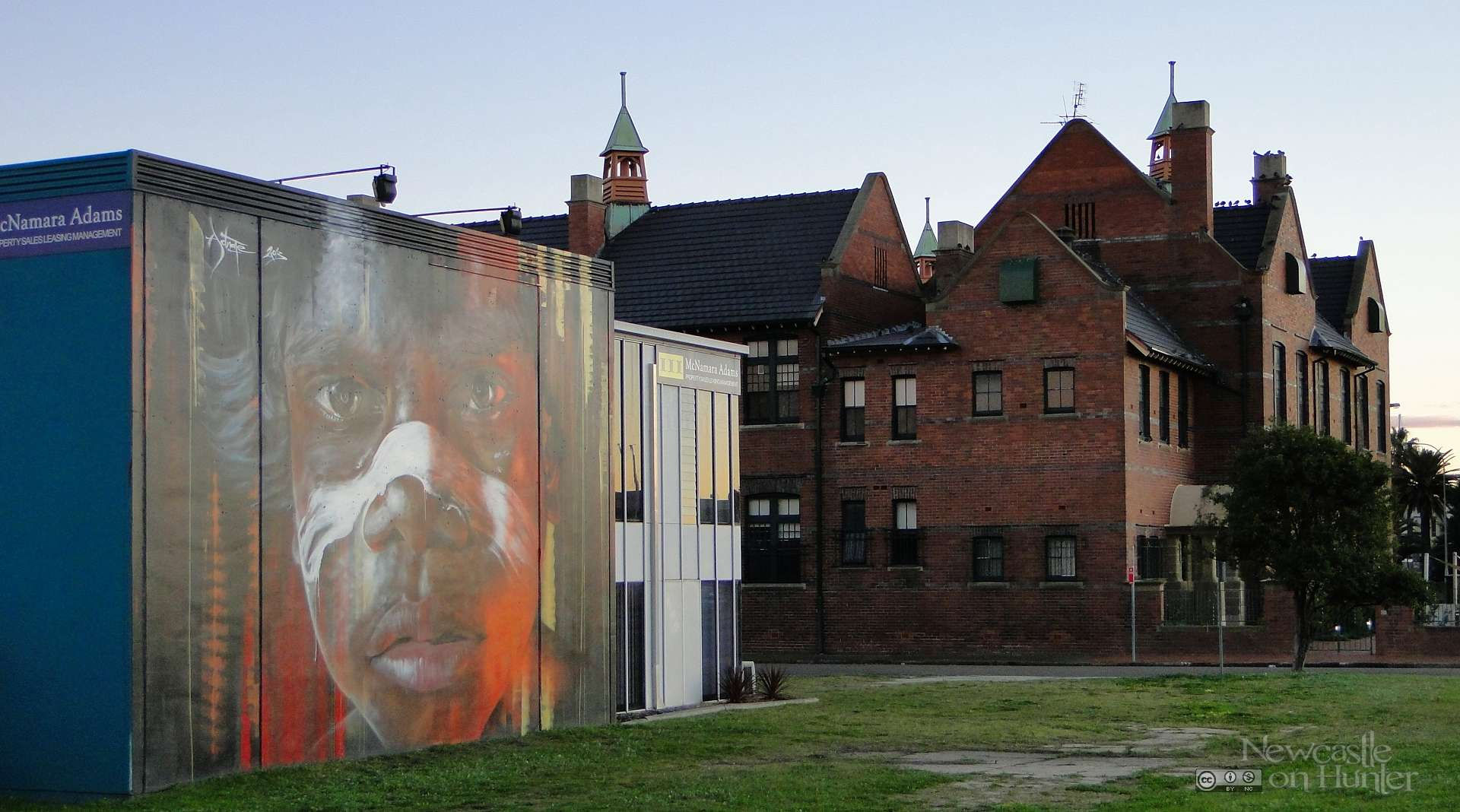 Adnate's former mural at 6 Bishopgate Street Wickham in June 2014.
Despite the industrial and shipping weight of two centuries pressing on the resilient little township, the twenty-first century has finally overrun it.
Transformation from quiet and quaint inner city streets of worker cottages and townhouses to high-density residential is underway.
Had heavy rail not stopped at Hamilton, west end redevelopment might have swept the place away by now. But never fear, developers are hard at work on this exceptionally convenient real estate.
Wickham's charm will inevitably evaporate in a forest of close-knit high-rise residential, matched in immoderation only by it's commercial neighbour, Honeysuckle.
Hit da Bricks
For two decades the light industrial warehouses of Wickham have been random canvasses for miscellaneous street art and graffiti.

Mural of local hip hop pioneer Tuns in May 2014 in Greenway Street.
In 2013 Hit The Bricks Festival – described as one of the leading transformative art events in Australia – hit Newy's bricks. Then in 2014 it surpassed 2013 in grand style.
Visitors and tourists were mightily impressed, but Newy's residents weren't too overcome. They'd seen it before. Decades before, when protest slogans against nuclear tests in the Pacific and against the Vietnam war last century appeared on the city's concreted spaces, railway underpasses, even the concrete wartime embattlements along the coast.
Our mindset began to change forty years ago when the stunning works of pioneer local artist Birgitte Hansen – having refined her style on trades union banners – were loosed upon the Civic Playhouse, Scratchley's Workers Cottage, and Newcastle Beach tunnel.
We Novocastrians have essentially grown up with street art.
Recall The Palais, where the kids let their hair down and almost collapsed the old structure under the weight of sprayed paint? Or Newcastle South Beach's painters' wall, where for a while everything was nails to spray can hammers! Eventually the young enthusiasts were 'hammered' into shape with approved art and constrained spaces.
Now the professionals have moved in under auspices of respectability, and are in relatively steady work.
When Hit the Bricks debuted in Newcastle in 2013, Wickham gained a large billing. As works grew in scale and stature, founder Sally Bourke enthused:
We've had artists say that work here (in Newcastle) is exceeding the scale of work in Melbourne.

Newcastle has everyone intrigued that a place would allow so many artists in and be so accepting of creativity. This is a visual indicator to people everywhere that Newcastle is a vibrant city."
Greenway Street Wickham in 2016
It's gone rather quiet since, except for commissioned works – assorted beach tunnels by Trevor Dickinson, the Stewart Avenue piece to replace Adnate's much adored Wickham mural that succumbed to property development.
On the bright side, property owners are much more open to the idea of artwork covering their vacant brick walls. Which is a good thing, yes?
The Streets of Wickham
What follows is fifteen years of street art photography in Wickham, dated from 2004. Anything missing is probably over at Beresford Lane, or various Hunter Street West spots across the rail line.
19 Charles Street
December 2004
May 2014
3 Throsby Street
A great piece of illusory art in Throsby's favourite street in June 2014.


6 Bishopgate Street
Adnate's mural at 6 Bishopgate Street in June 2014
76 Hannell Street
9 Albert Street
Dixon Street
Furlong Lane ~ March 2016
This almost invisible night-soil accessway bears some of Newcastle's finest artwork.
The sort of work that should grace some of our more visible monoliths. The lane is so narrow it tested both my fisheye lens and ability to frame without sharing backyards with chooks and dogs. There is no over-arching wide shot to give placement so here's a mad selection.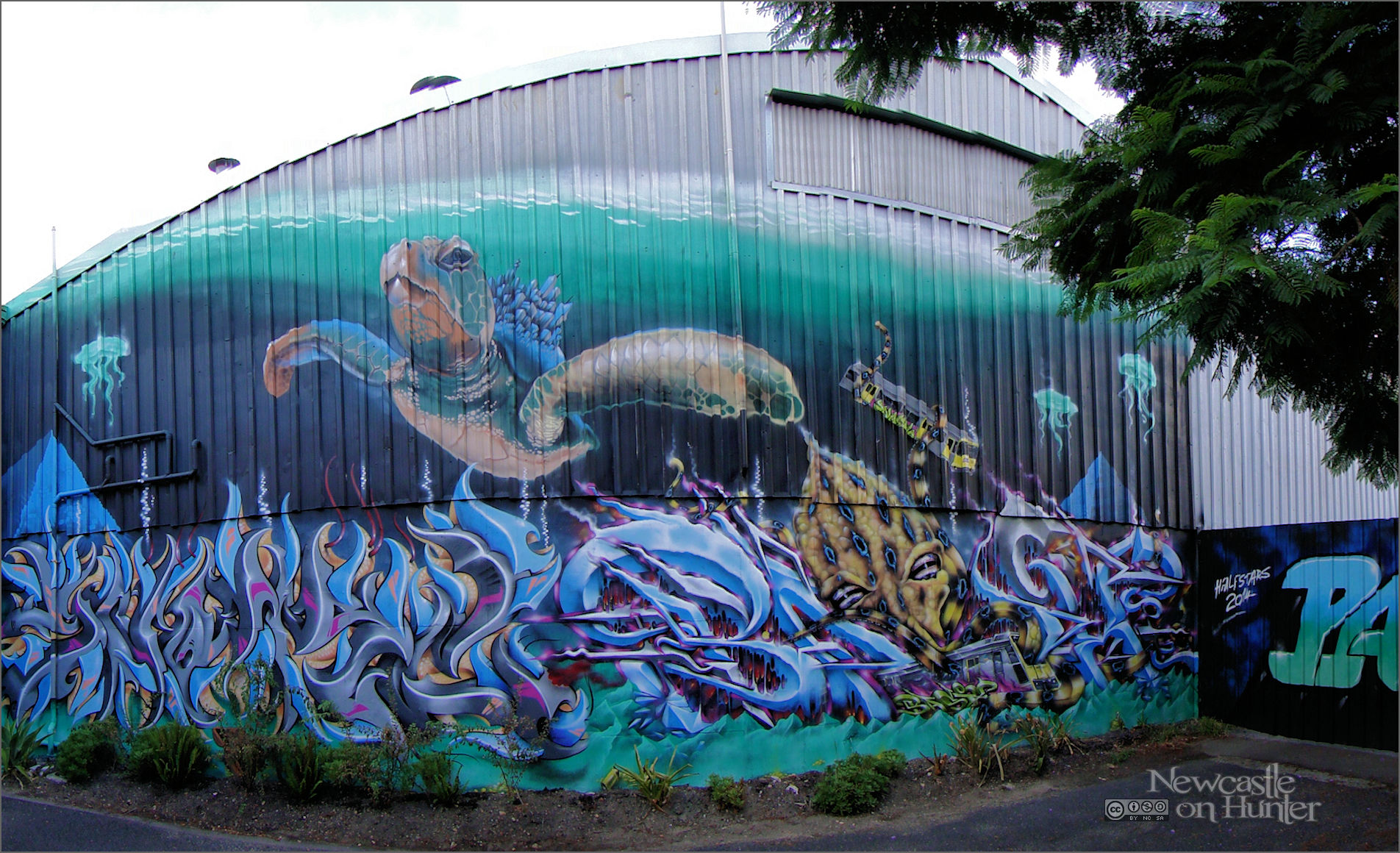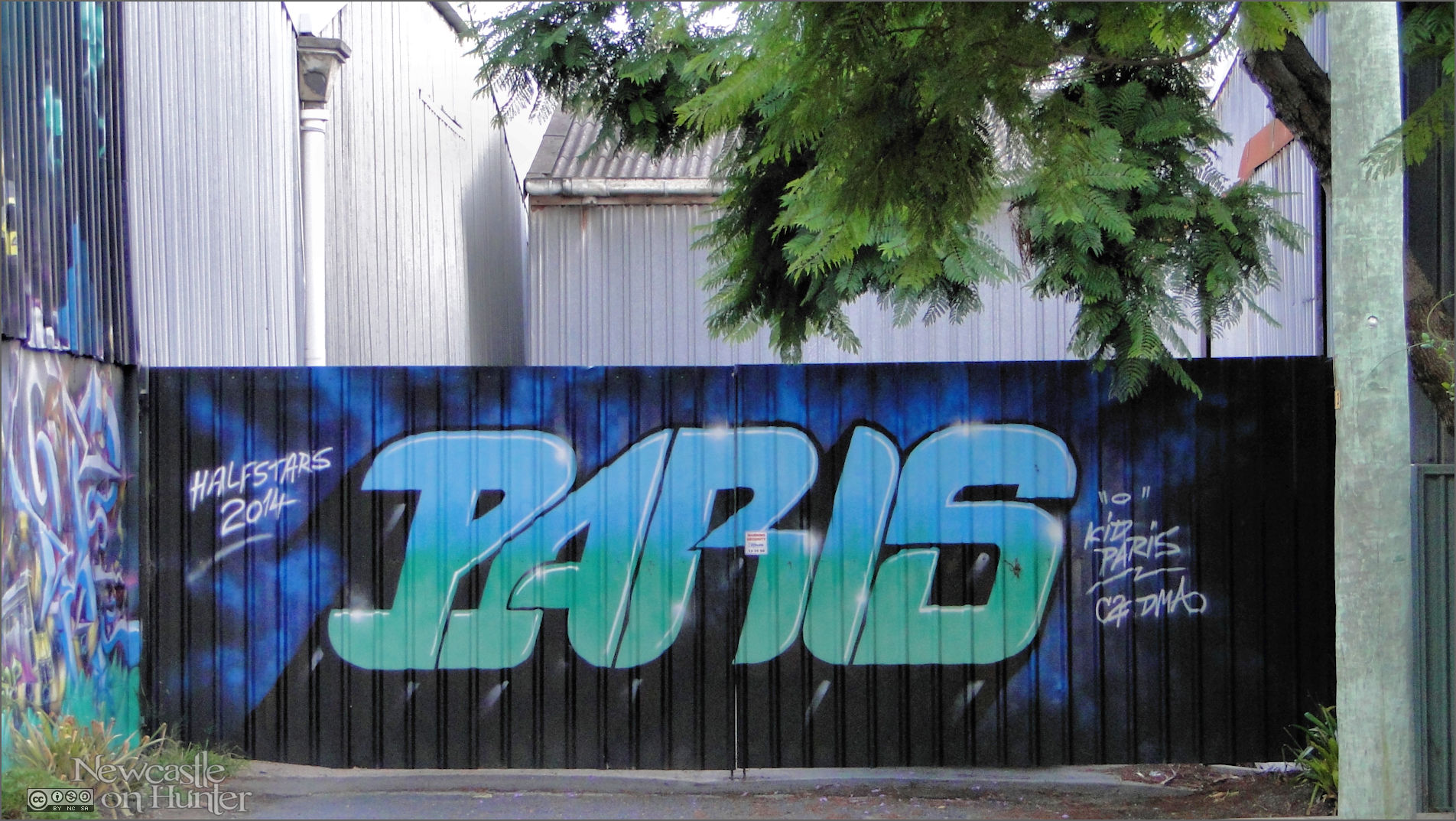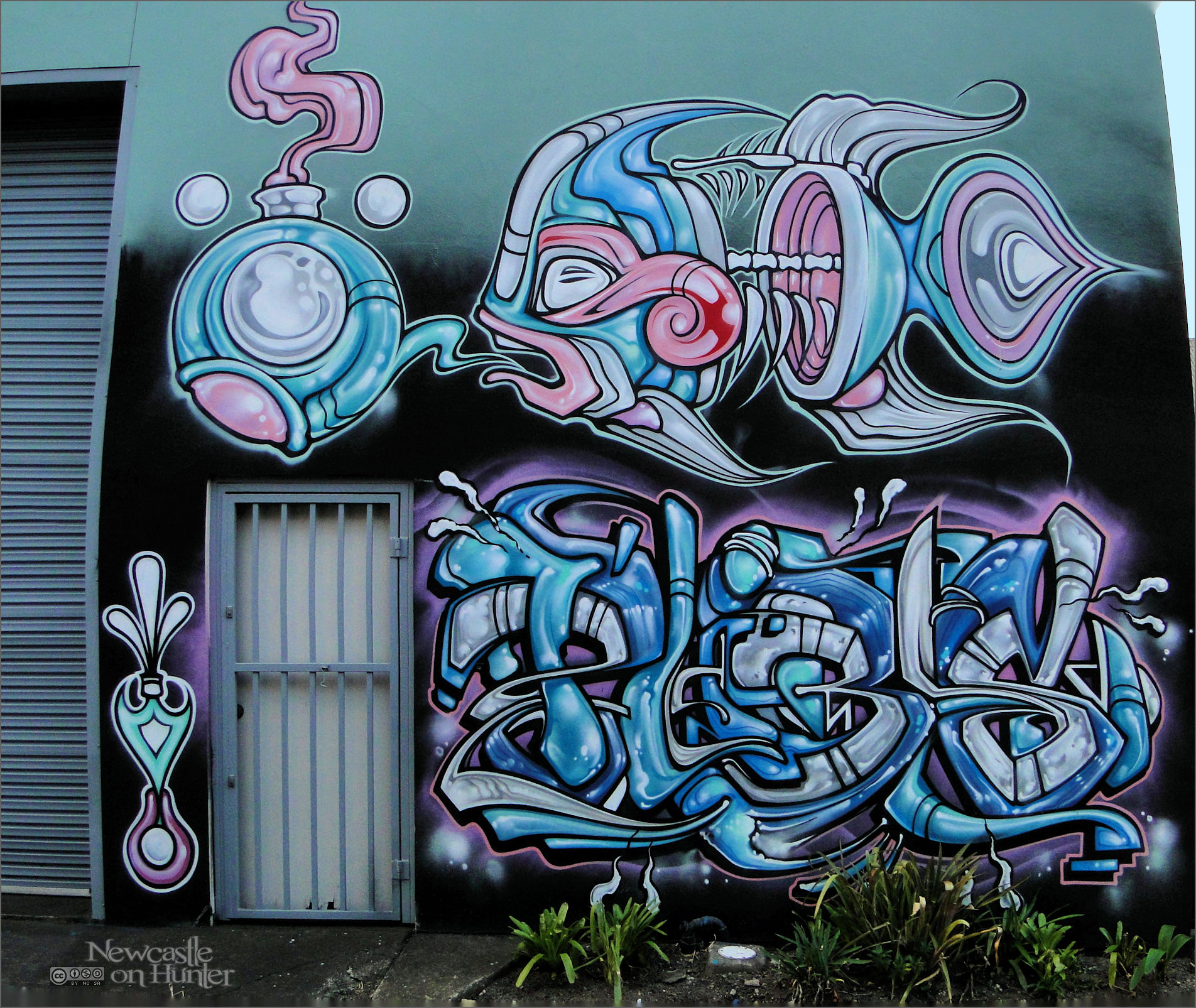 Greenway and Foundry Streets
The Hit the Bricks scene and where the action was in 2013 and 2014. Sadly, 5 years later, on a recent drive-by I was disappointed to find nothing had changed much. And also happy.
December 2007
May 2014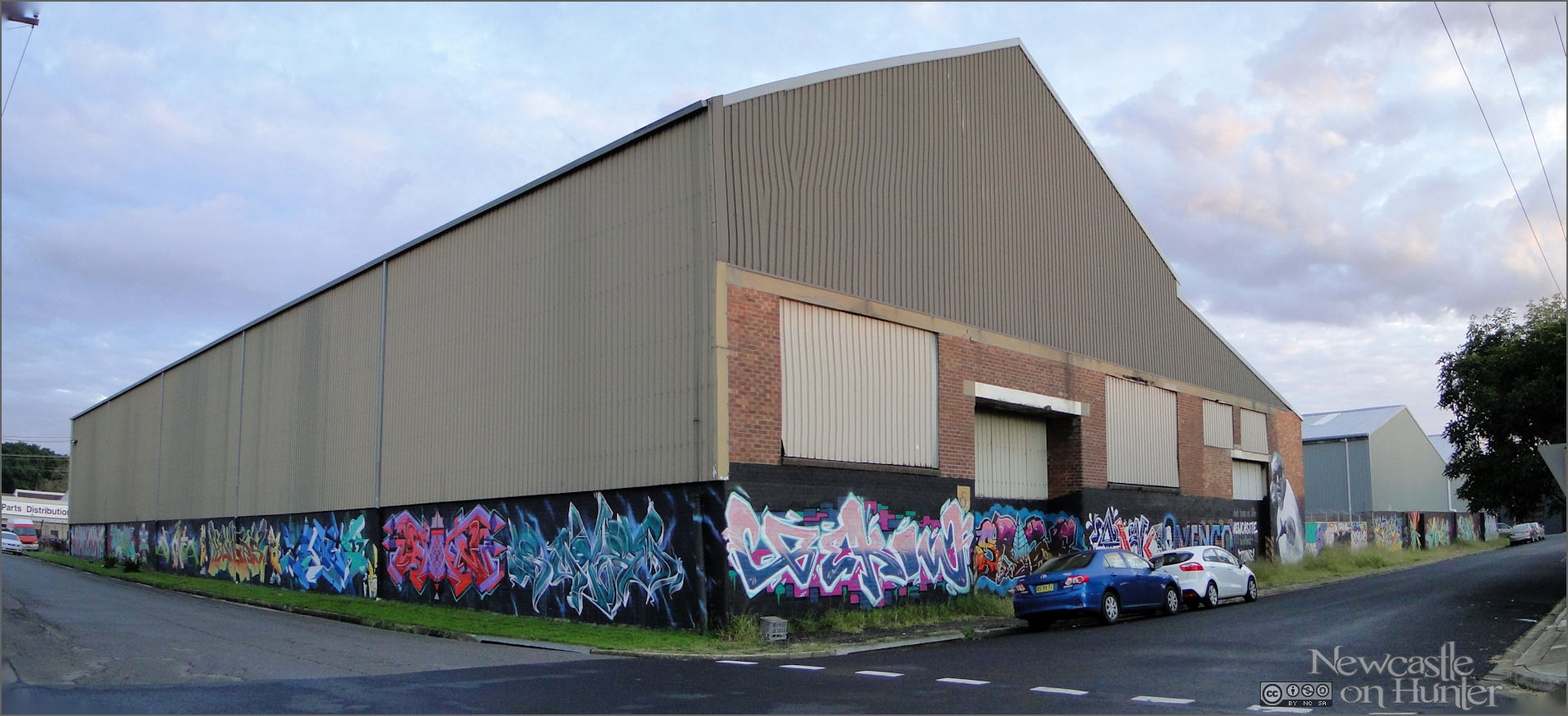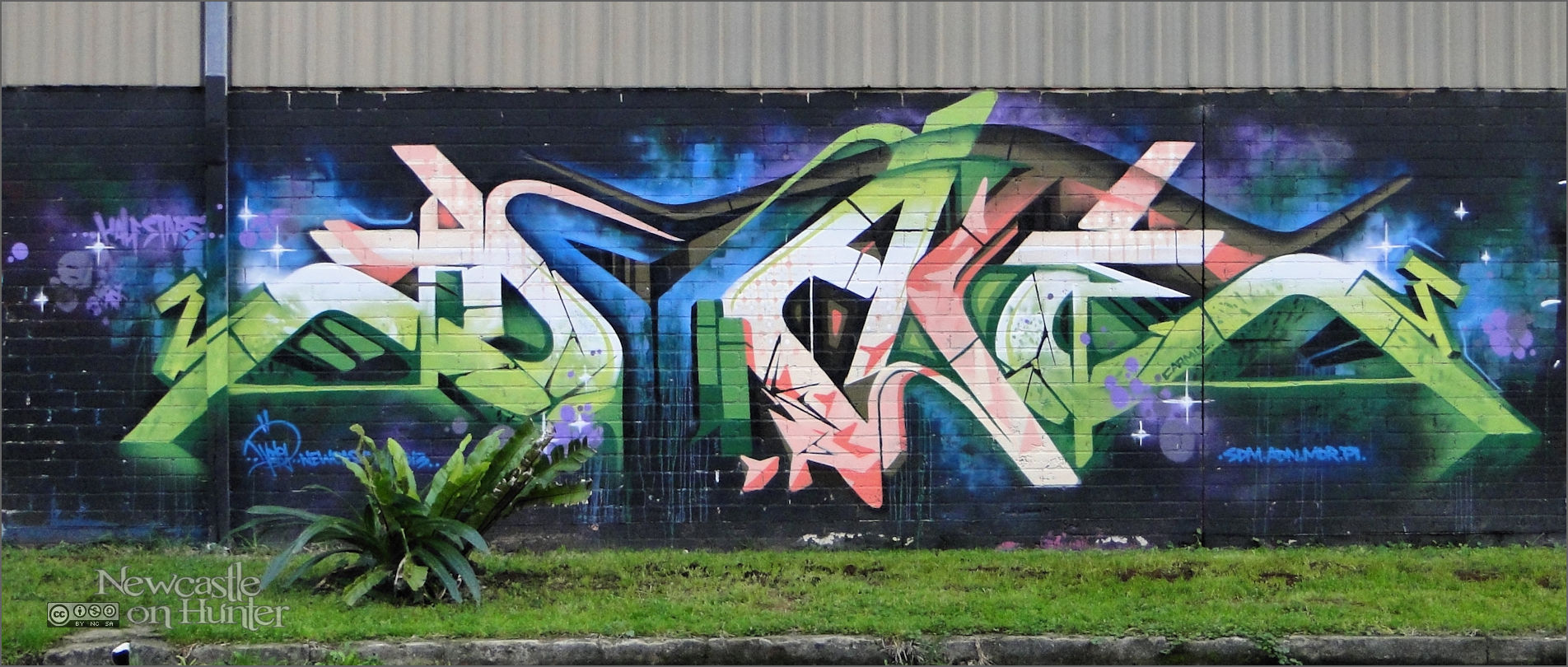 Meanwhile, on the other side of the street…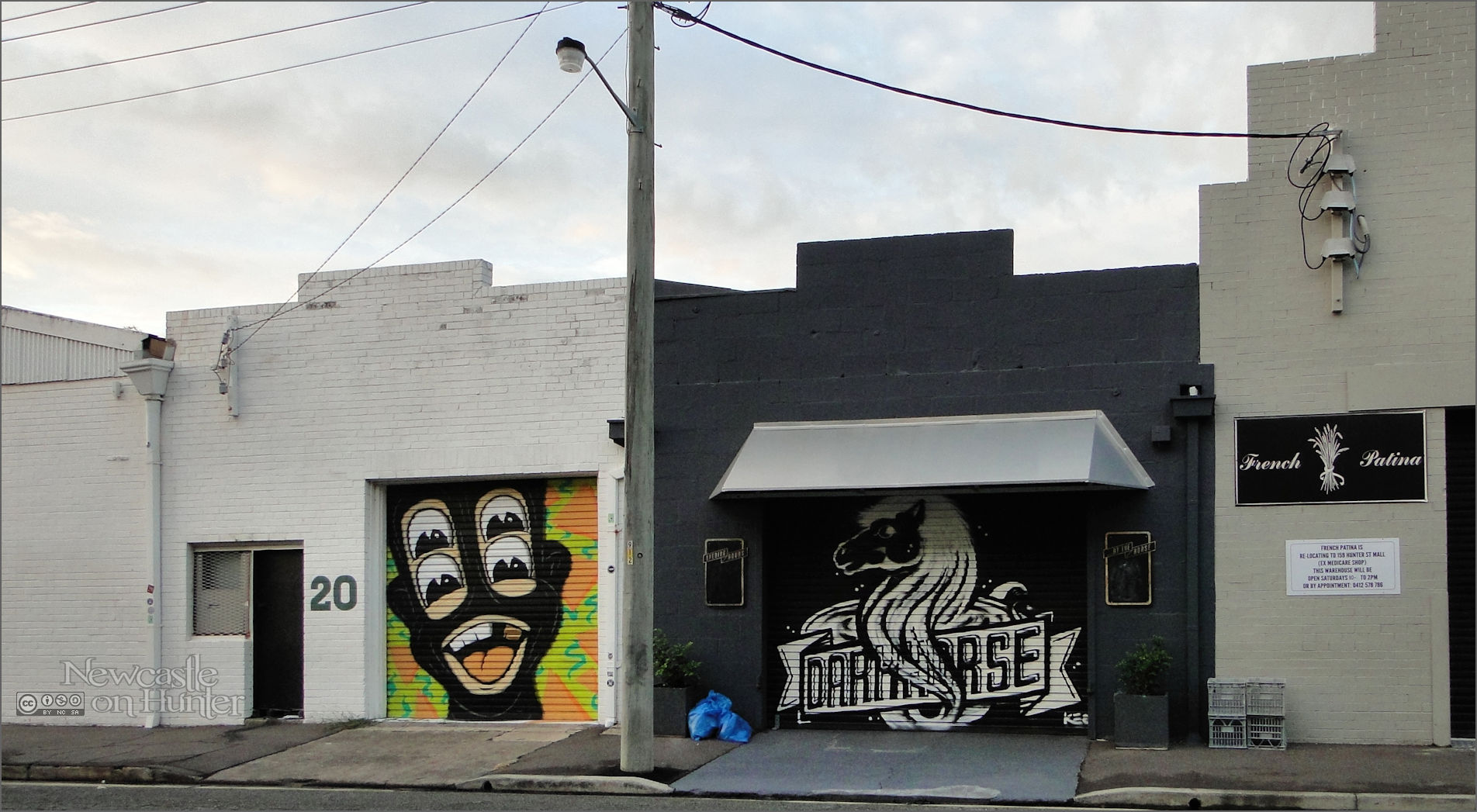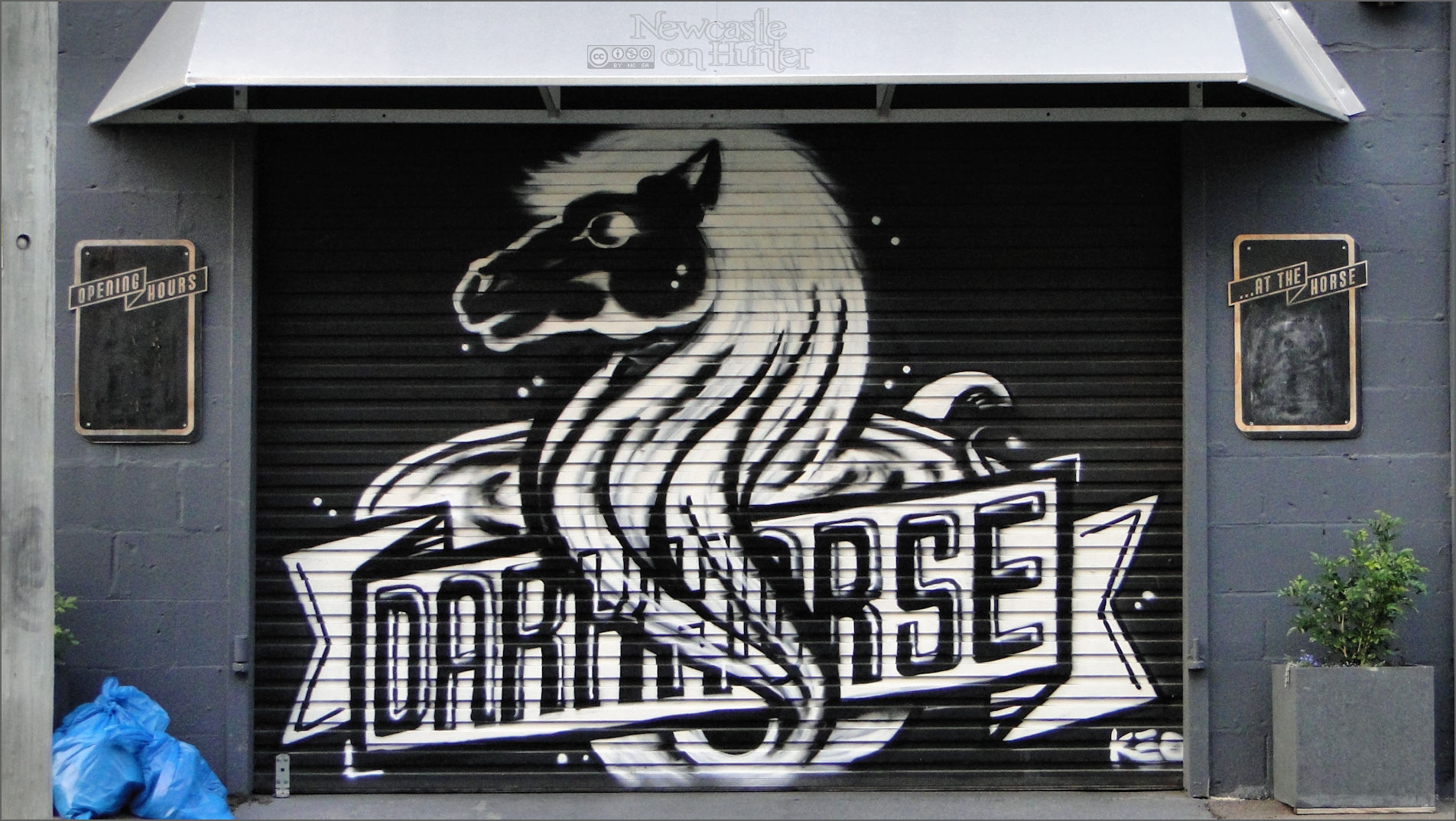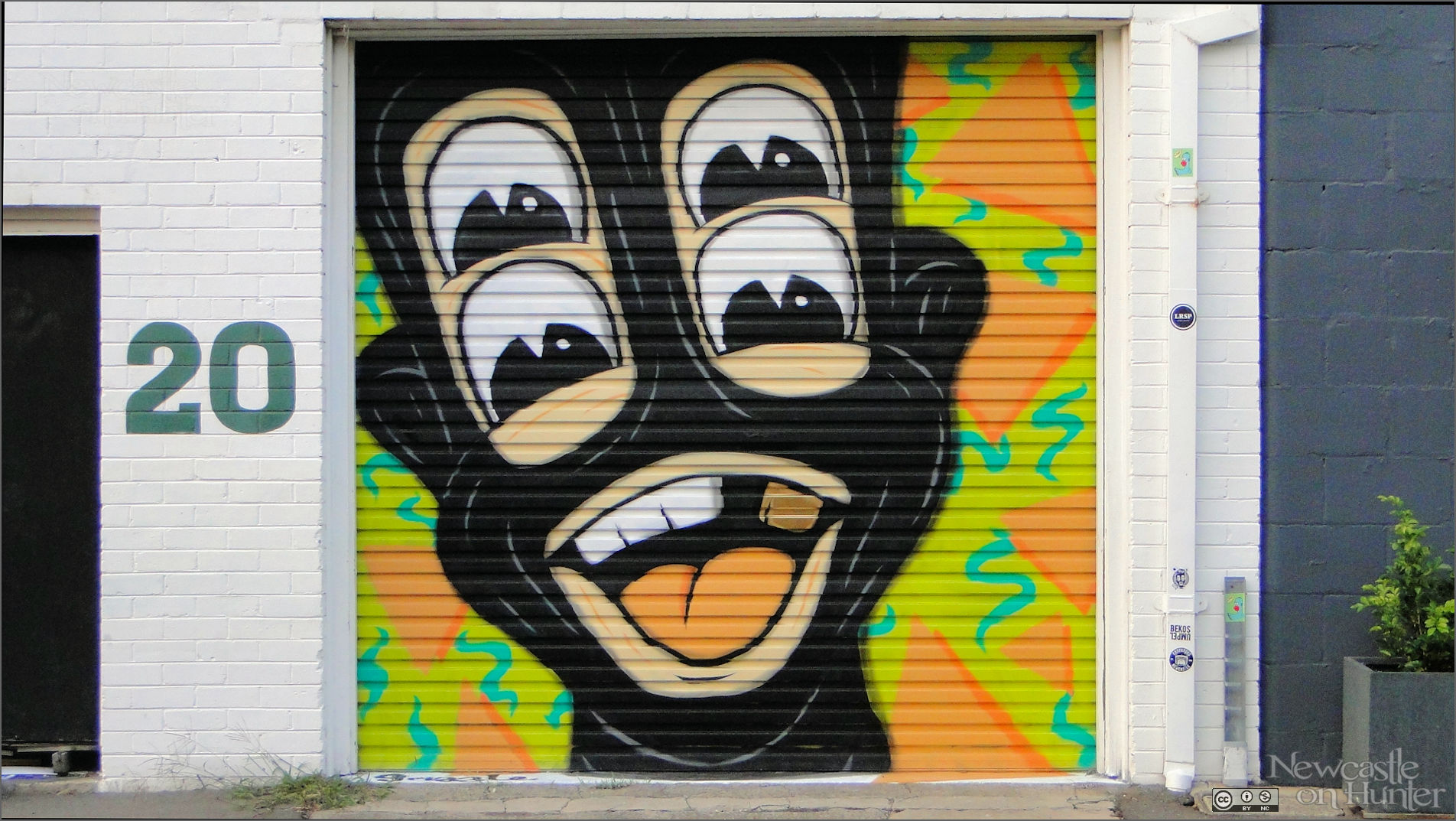 .. still in Foundry ..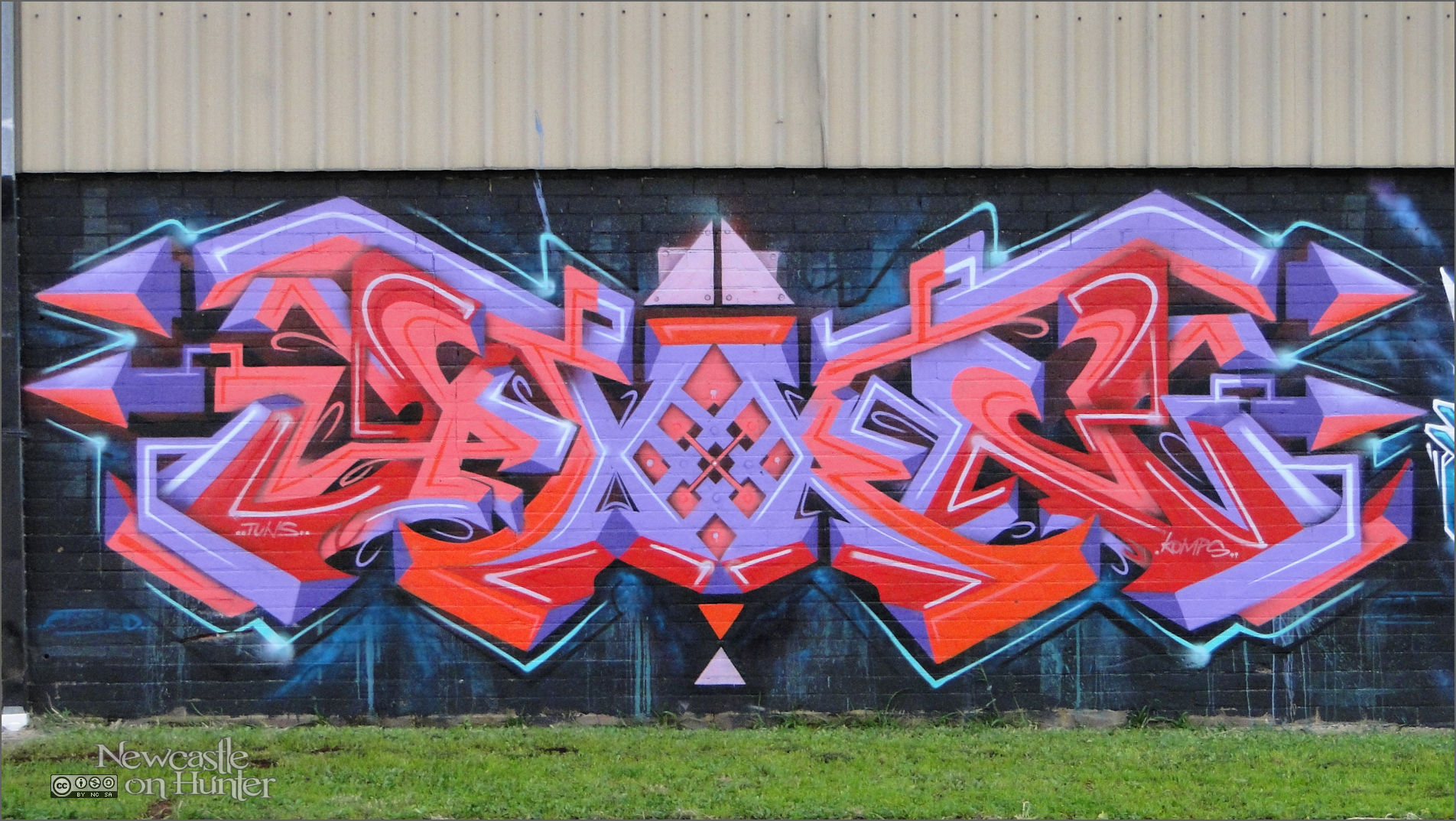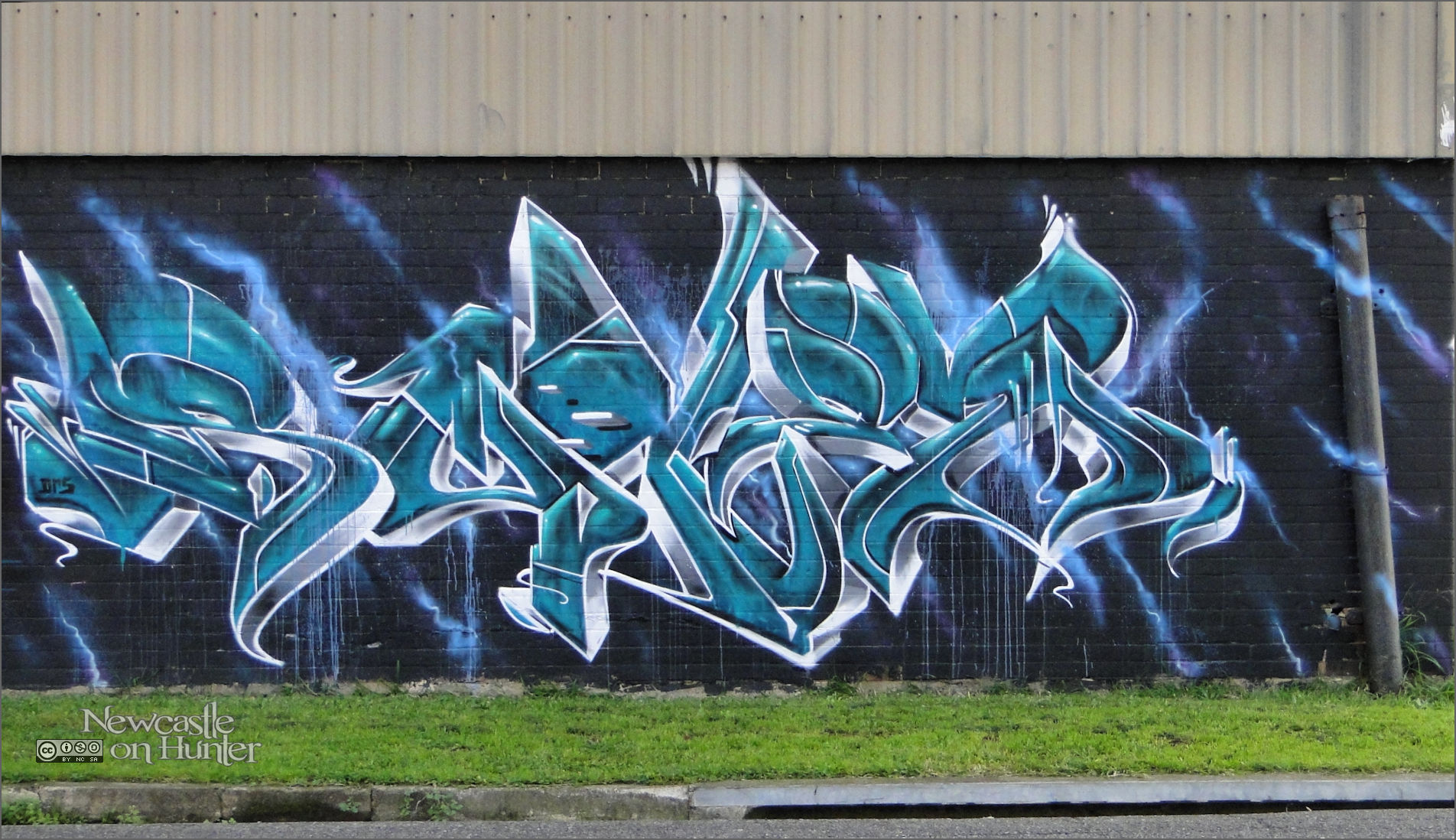 Then into Greenway Street heading north to Albert Street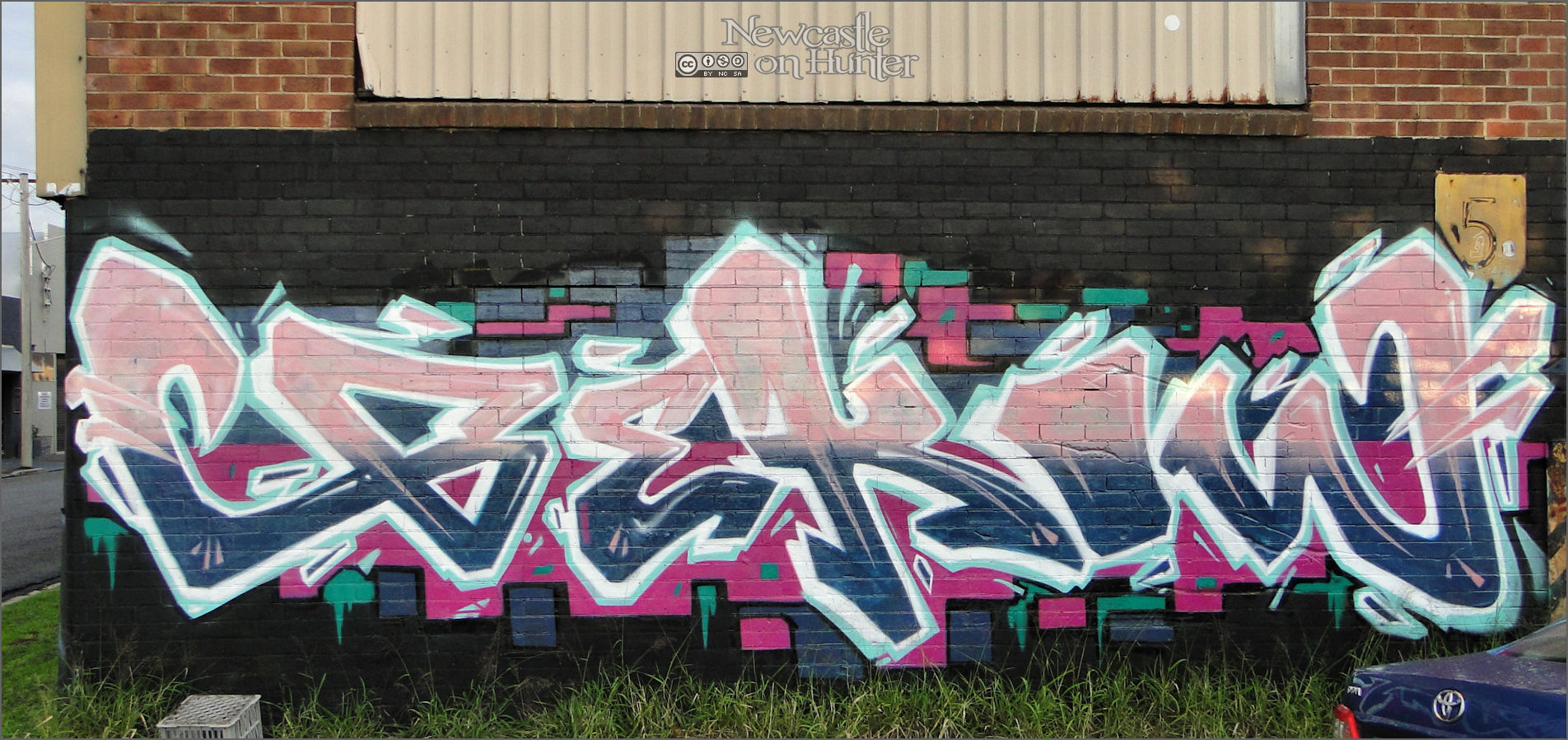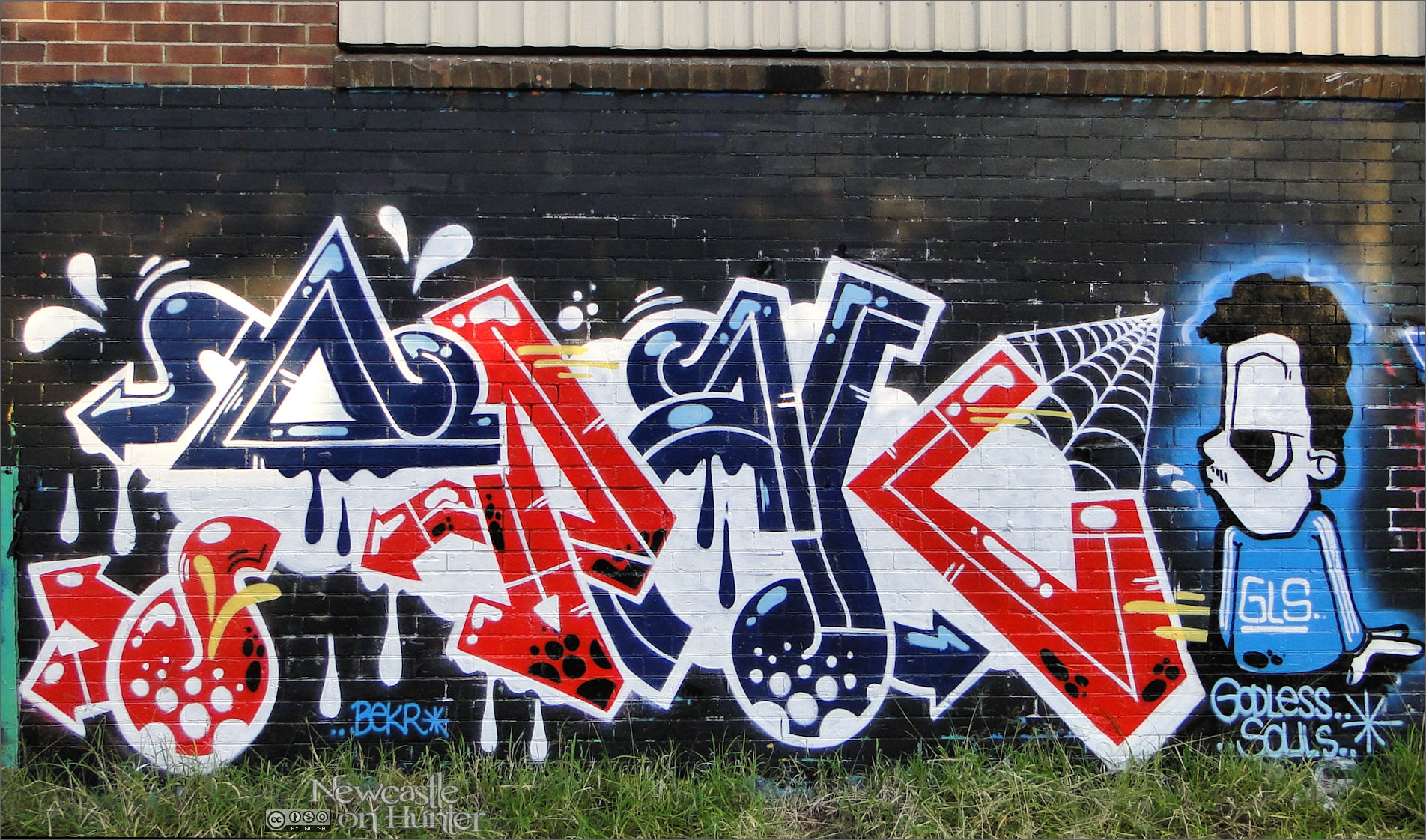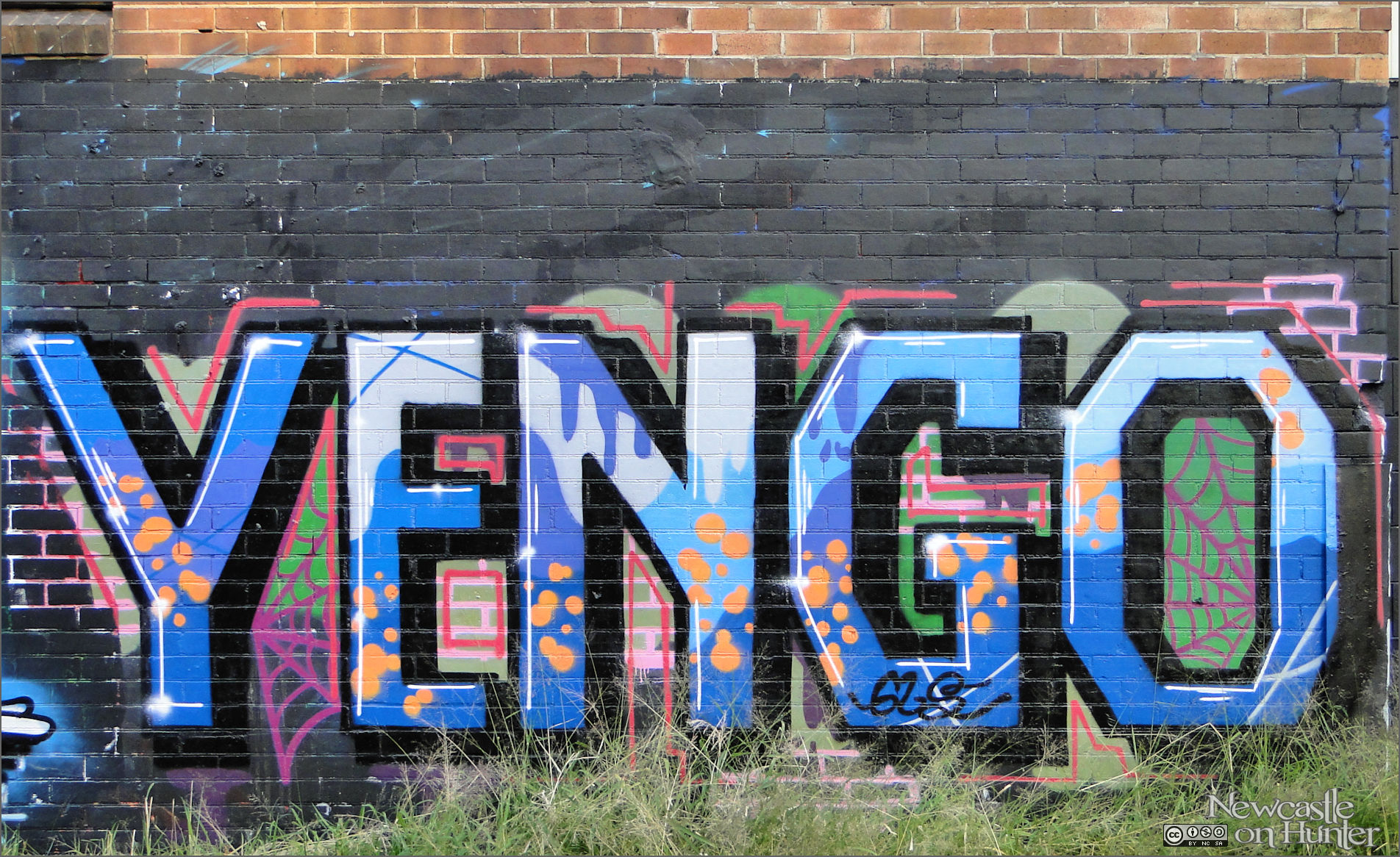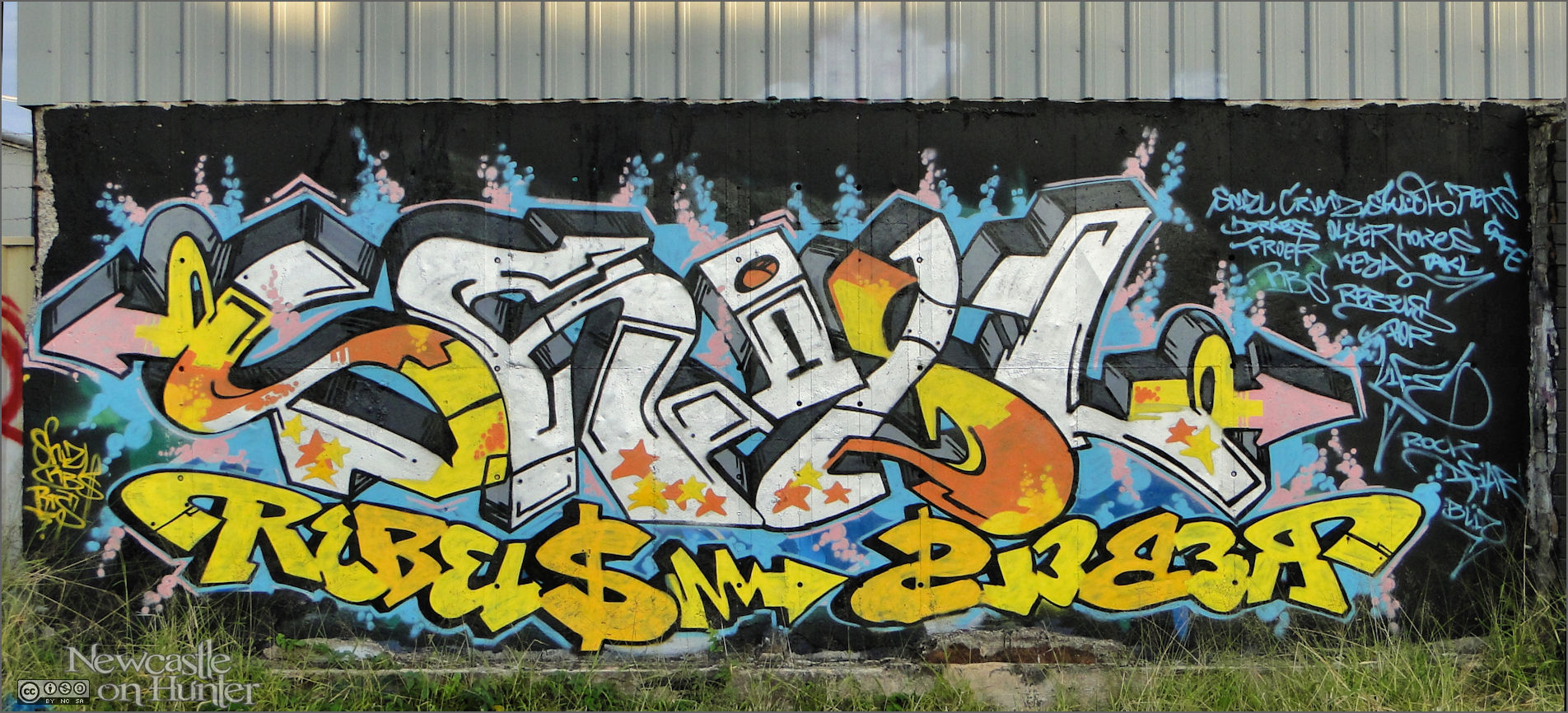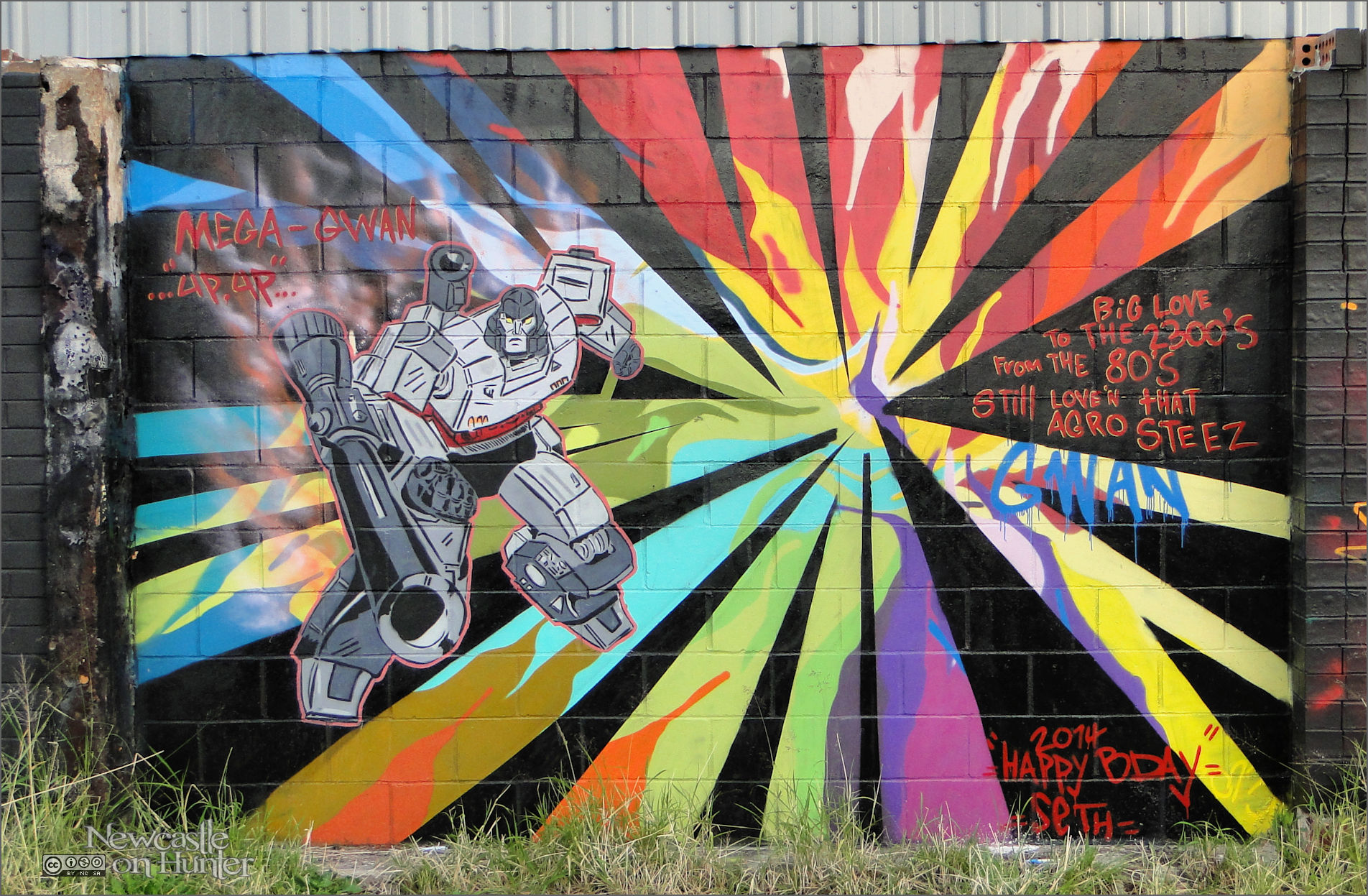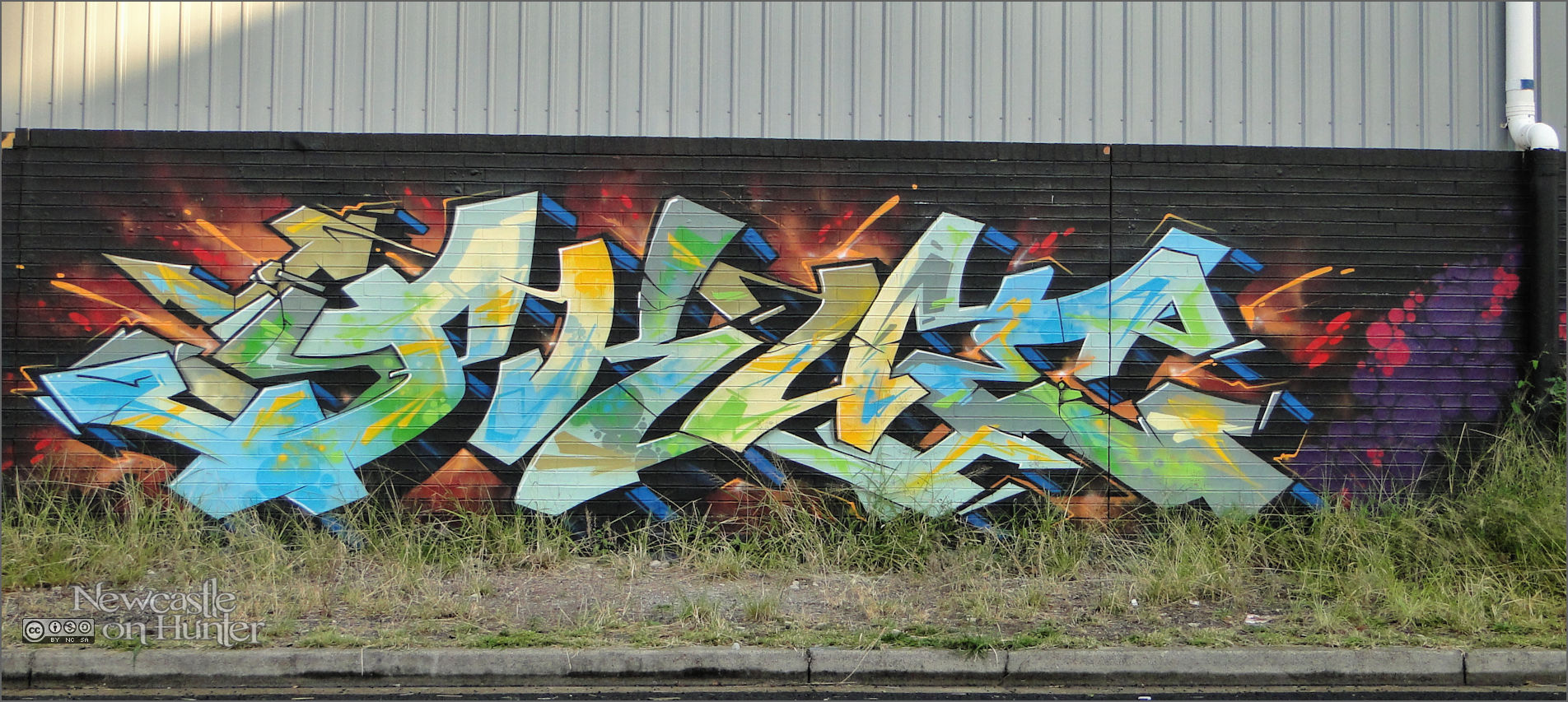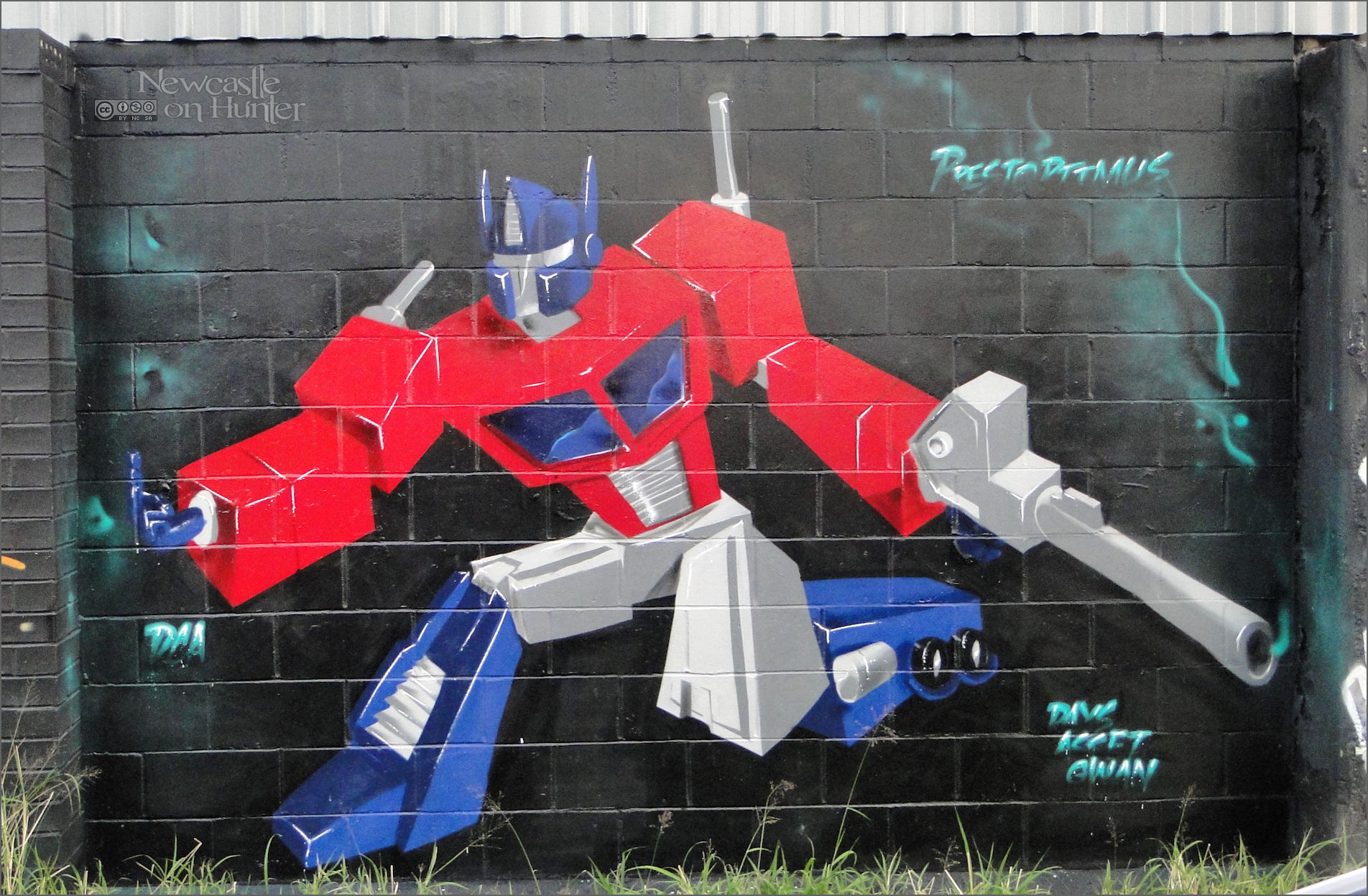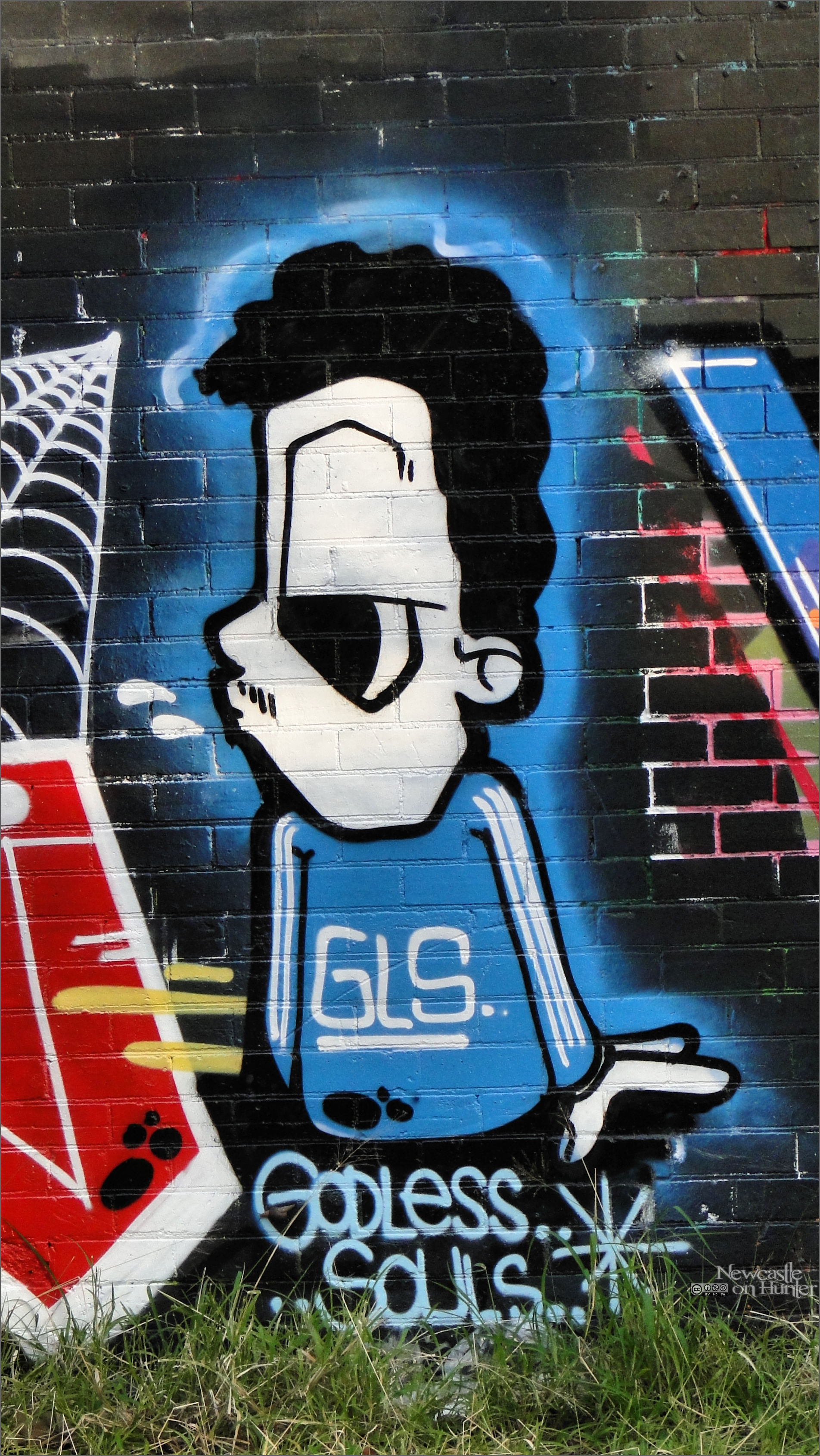 Then there's the Tuns!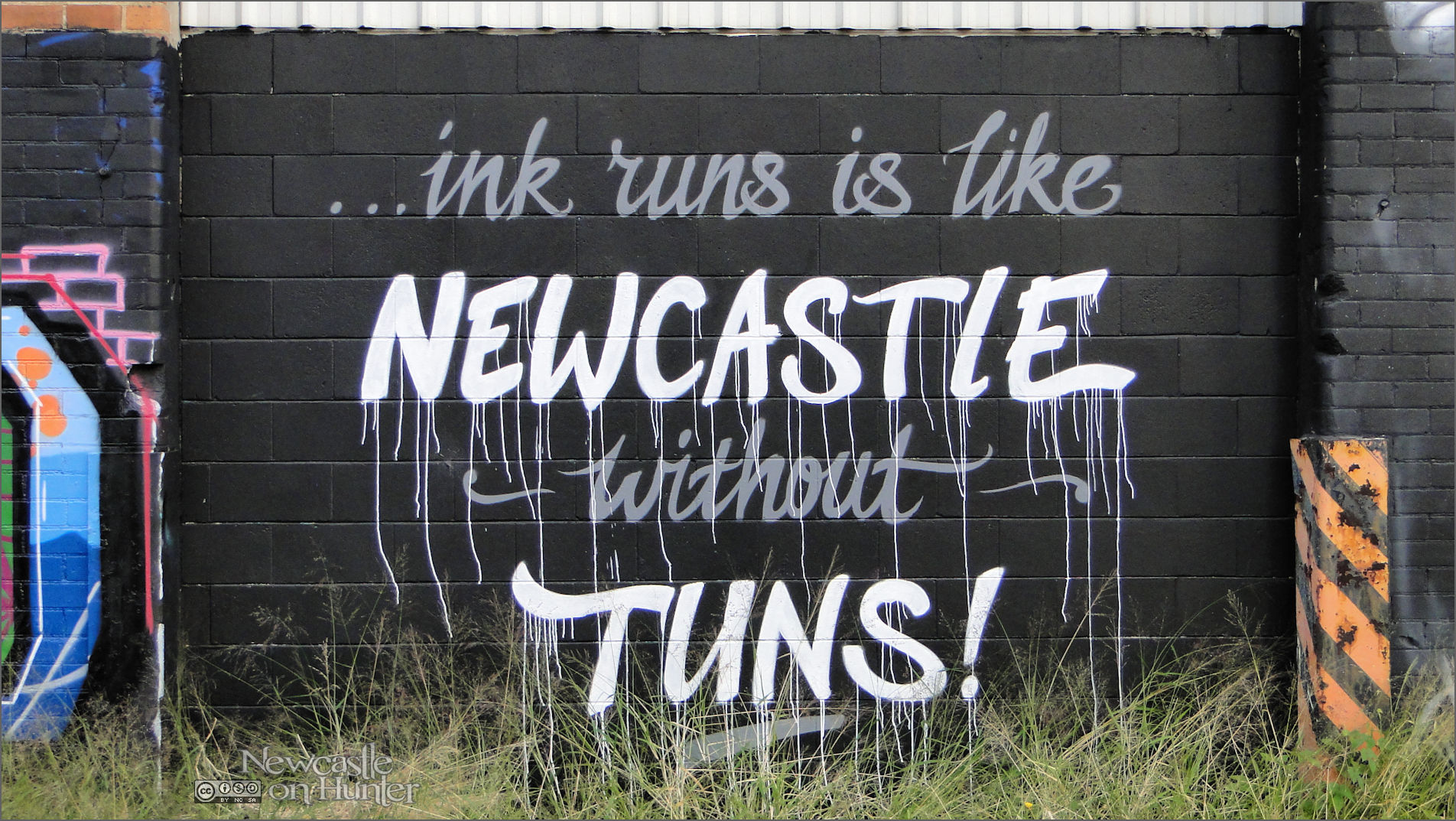 March 2016
Just a few differences, some tagging, and a nice doorway insert.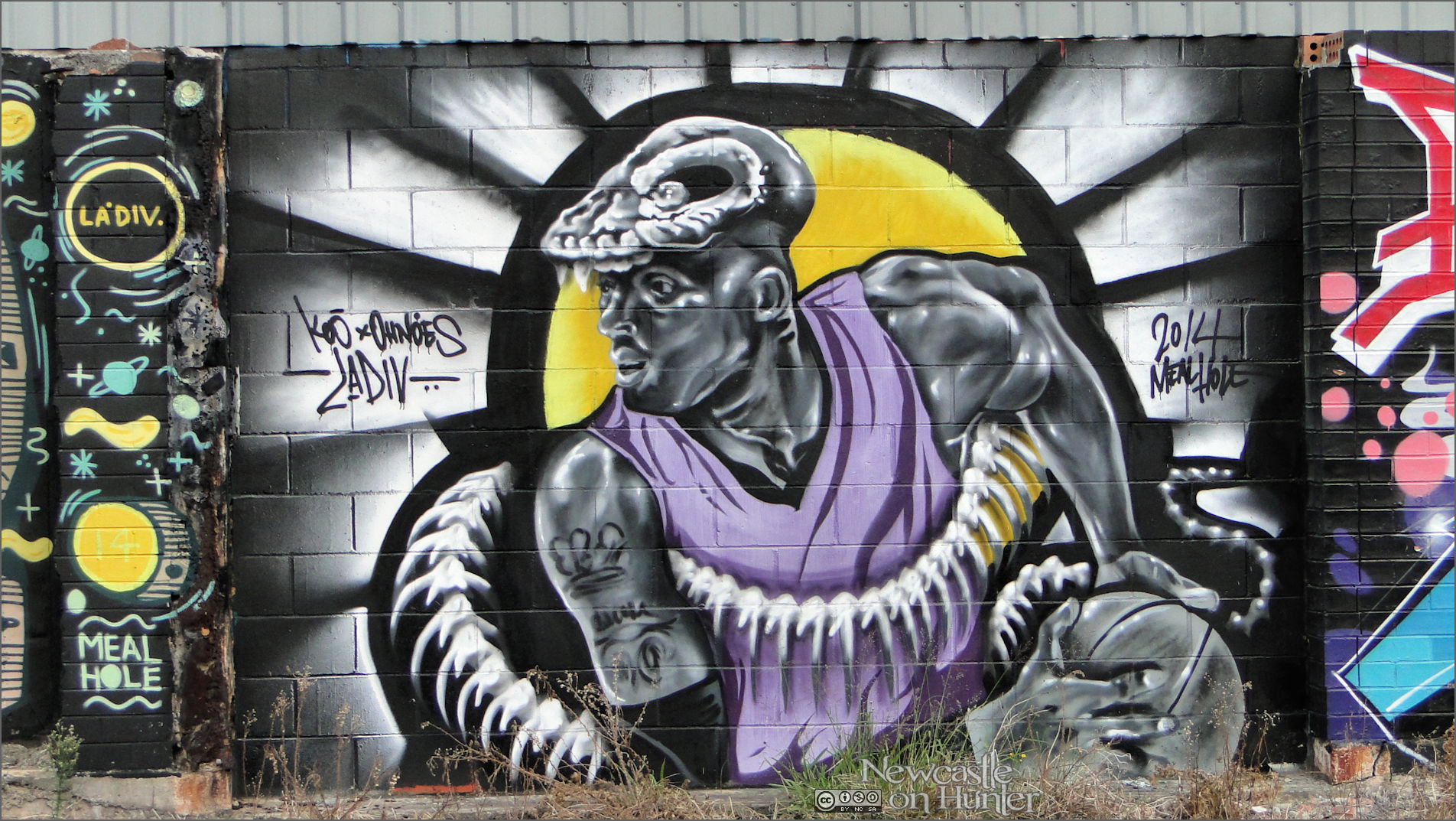 Union Street
20 Union Street in May 2014
37 Union Street in March 2016
Signor Piggy Wigg Productions
Throsby arose at sparrow fart for his monthly sojourn into the badlands of Newcastle, NSW.
His mission this Sunday morning in September of 2008 was to seek out the enchanting mural that covered an industrial shed in Wickham that he saw briefly from railway overpass leaving Islington, each day on his way to work.

Sunday mornings, nice and early, was his favourite time to go skulking in places where, at busier times, one might encounter unsavoury people, hostiles brandishing pitchforks… or, worse, a clergyman in search of a flock.
It didn't take long to discover the shed was adjacent to, and on the eastern side of, Wickham's former bowling club – now a ghost yard of forlorn memories. But wait, the clubhouse is covered in graffiti, or artwork of sorts, and what's that banner at the entrance all about?

Only when deep in foreign territory did it dawn on this trespasser that the clubhouse was a residence and artistes could be asleep inside. fast asleep, please. And perhaps ferocious hounds, too, that might bear malice toward lurkers like Throsby. A few more quick photographs and retreat as paparazzi stealthily must.



Some familiar cutouts can be seen against the fence at right. And sadly, to this very day, the whale never got completed. Unless it's meant to be that white whale.


Alas, Signor Piggy Wigg's fine art studio met an unhappy end in 2013.

4 Railway Street
Formerly Dairy Farmers milk depot at the Hunter Street end, a distribution point for milkos across the inner city and a hive of activity from midnight to dawn. It spent many years thereafter as Regal Motors Mazda dealership.
In June of 2004 this fading mural was captured on the rear wall facing the rail line through Wickham.


Panoramas – these are quite long. Not great viewing (the artwork is faded now) but nevertheless a trip back in time.
Click images below to open an interactive panorama in new window/session.Use player controls, mouse, or gestures, to drag and zoom