Lanes and Alleys
As Throsby traipses along inner-city backstreets, alleys, and laneways, he wonders about the stirrings, chatterings, to-ings and fro-ings, that once lent life to these mean little brick-walled canyons.
Alleyways are the invisible sinews of an indifferent city – how could people have ever lived in such unwelcoming dismalness?
But searching the archives of Newcastle urban history reveals that these insignificant byways were as alive as any suburban street – lined with terraced homes of workers, their children, pets, perhaps a vegetable patch, cow, or a goat or two.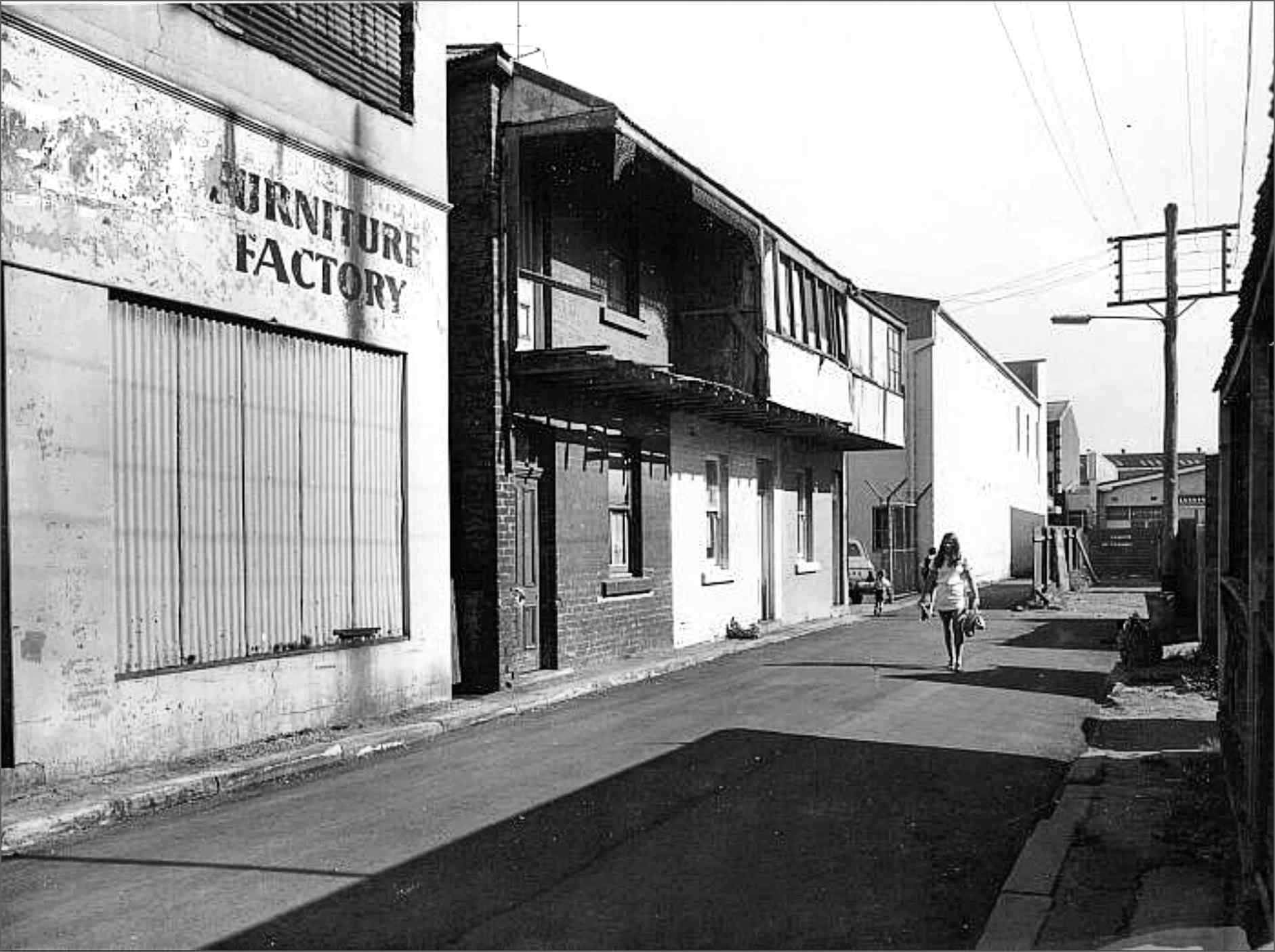 Union Lane in 1971, as the last vestiges of residential building reach their use-by date. Looking north towards Hunter Street. The lane ends halfway but allows narrower access to Hunter Street. Image credit K. Edwards, NCC Photobank.
Laing Street, was one such pleasant surprise, Beresford lane, another.
A glimpse down Union Lane will never suggest it once was a thriving residential community and small business hub. As the tale was woven by the news snippets that follow, I came to believe – from the frequent exploits of dough kneaders – that this humble walkway was, perhaps, the east coast epicentre of bakery produce!
Though uselessly narrow at the northern Hunter Street end, our little byway widens to the actual lane halfway to King Street.
PICTURED BELOW ~ BLANE STREET BECAME HUNTER STREET WEST, THEN HUNTER STREET, NEWCASTLE WEST. LOWER CHURCH STREET BECAME KING STREET. IMAGE SUPPLIED BY UNIVERSITY OF NEWCASTLE LIVING HISTORIES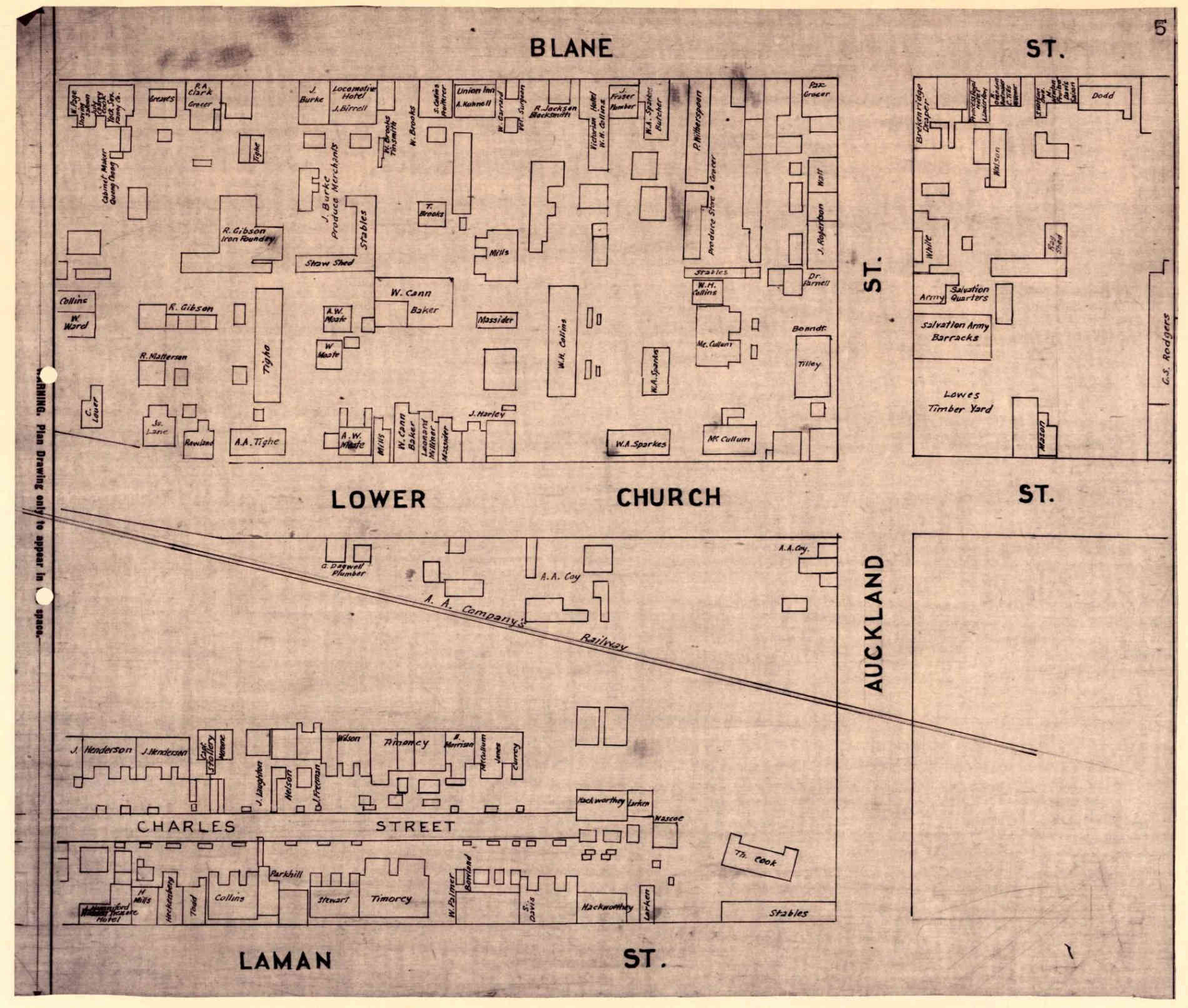 As the 1886 map above shows, the spaces between Blane Street (now Hunter Street West) and Lower Church Street (now King Street) were, during early growth, dotted almost randomly with buildings far from the main streets. Presumably they were paddocks for livestock grazing, especially horses.
What is striking – to one who has no intimate knowledge of early city development – is that every building on the map is tidily aligned with street frontages, even those lacking such frontage. A satellite view from 1886 would explain the reason for that, allowing us to zoom in on the rutted wagon tracks and worn foot trails through the various fields. Or had those early settlers the instincts of Amitermes meridionalis…?
The evidence that Union Lane is the space beside W. H. Collins' more southward oblong structure is that the supposed region narrows and emerges at Blane (Hunter) Street just near the Union Inn, which once occupied "portion of the site" on which Mackies' Furnishing Warehouse appeared, at (eventually) 451 Hunter St – the corner of Union Lane and Hunter Street.
Also, Union Lane today is mid-way between Auckland Street and the bend in King Street where it veers to follow the A. A. Company's rail line going west.
One surmises too that the Victorian Hotel is where the Exchange Hotel was, and the famous Blue Peter Hotel, that still stands in all its glorious ornateness.
Until more history is uncovered, one assumes (for the purpose of this article) that's where all the action that follows occurred.
The narrow Hunter Street entrance of Union Lane is seen below. The apartment building in background occupies the western frontage of the lane proper, off King Street.
Union Lane entrance from Hunter Street in 2004. Former Blue Peter Hotel at left.
Upside
The upside, a feeble one, is these horrid little sterile canyons are marvellous canvasses for street art. And Union Lane has hosted some of Newcastle's most spectacular horizontal montages. Some, from 2004, 2008, and 2014, are shown at the foot of this article.
They are so long, and the alley so narrow, they are shown below as interactive panoramas, or single still images of discrete sections.
As usual, all images are Creative Commons non-commercial share-alike with attribution. Which means you can reproduce them with a link back to either NewcastleOnHunter's home page or the URL to this page. But you can't directly make money with them.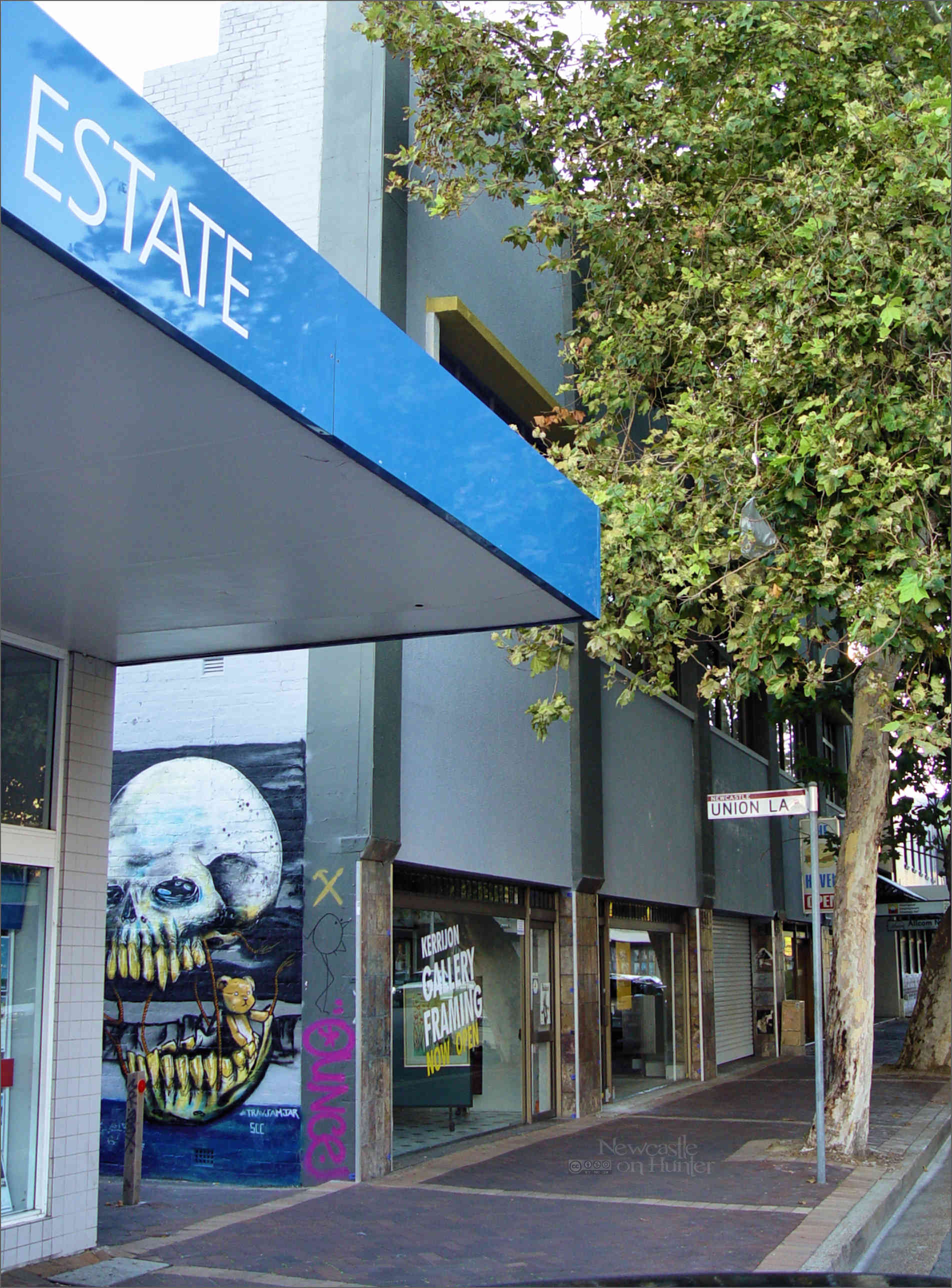 Union Lane off Hunter Street in 2014. Kerrijon is where Mackies Furniture once traded. Before them, the Union Inn - not the Bolton Street Inn, but the one on the 1886 map further above.
But first some history
And so to the folk who gave Union Lane and the city of Newcastle its character, so long ago.
On 17 January, 1888, Council's Alderman Gibb presented a petition from eighteen residents and property holders of Union-lane and the vicinity, requesting the Council to consider the advisability of laying drain-pipes from Lower Church-street to Blane-street, so as to connect with other pipes leading from backyards for the more efficient carrying away of slops and storm water.
Alderman Gibb drew the Mayor's attention to several matters, including the paving of Blane street, the metal on which, he considered, should be tarred, if it was not now too late. The Mayor promised to attend to this matter… "if it was not too late."
Two years later, on 6 May, the persistent Alderman Gibb drew attention to the way in which the rubbish in Hunter-street West was removed, and further, to the existence of a dangerous well in Union-lane, between (Lower) Church street and Hunter-street West.
UNION LANE FOLK TO INDEMNIFY COUNCIL FOR WORKS?
The city council improvement committee's report for October was adopted on 15 November, 1892. It recommended that the cost of the work of the shelter sheds at the beach be passed for payment, and that the work of improving Union-lane at an estimated cost of £175 be carried out on receipt of an indemnity from property owners.
We guess not all the houses in Union Lane were timber and iron, because on 3 June, 1893, Mr. H. H. Lang chose to sell, on Wednesday, June 7, at 3 o'clock, at his rooms, Victoria Hotel, Hunter street, the following properties: corner and adjoining blocks, Lower Church street; four brick cottages in Union-lane; the free hold premises 77 and 79 Hunter-street West ; and six properties in Fern and Chinchen streets, Islington.
Thomas Malone, labourer, was charged with having 'broken and entered the shop of Charles Lauer, Hunter-street West in March of 1894, and stolen therein one shillings worth of stamps and a packet of labels. Constable Conn stated that at a quarter to 2 o'clock that morning he saw a man coining out of Mr. Lauer's butcher's shop in Hunter-street West. Witness followed the stranger into Sharp's lane and across a paddock, thence down Union-lane, across Hunter-street West into the railway premises. Good to know the ol' Lane was a handy transit way for thieves. He entered an old railway carriage and took off his boots. Witness asked how long he had been there, and he first said four hours, and then half an hour. He (witness) took accused to Lauer's shop and thence to the lookup.
'NOT A BRILLIANT PLAYER'
THE FOOTBALL ACCIDENT. On 3 August, 1897, the papers reported the death of Joseph Jenkins. Inquest to be Held. Footballers generally will regret to hear of the death of Joseph Jenkins, which sad event took place in the Newcastle Hospital at an early hour yesterday morning. Just before his death poor Jenkins suffered the most intense agony, and death seemed to be a happy release. The deceased was a member of the Carlton B team, and although not a brilliant player, he at all times took an active interest in the game. He was a son of Mr. J. Jenkins, a retired sea captain, and was the sole support of his two sisters and his aged father. The funeral will take place this afternoon, leaving the deceased's late residence, No. 9 Union lane, at 2 45 p.m., for Sandgate Cemetery. The Rev. W. F. James will officiate at the grave.
On 22 May, 1900, the health inspector reported one case of scarlet fever in the Belmore Ward and one case of typhoid fever; also three cases of typhoid fever in the City Ward – the whole being reported from the council. Received! The inspector reported upon the state of premises at 5, 7, 9, and 11 Union-lane; at 1, 3, 5, 7, 9, and 11, at a lane off Hunter street West; at 81 Church-street, and at three houses off Church-street. He mentioned the owners, and asked the council to empower him to serve notices calling upon them to abate the nuisance (by providing proper drainage) within 14 days, failing which legal proceedings to be taken. Alderman Kidd moved the formal motion required by the Act empowering the inspector to act. He thought that when the inspector brought up cases of the kind he ought to be supported, in the interests of the public health.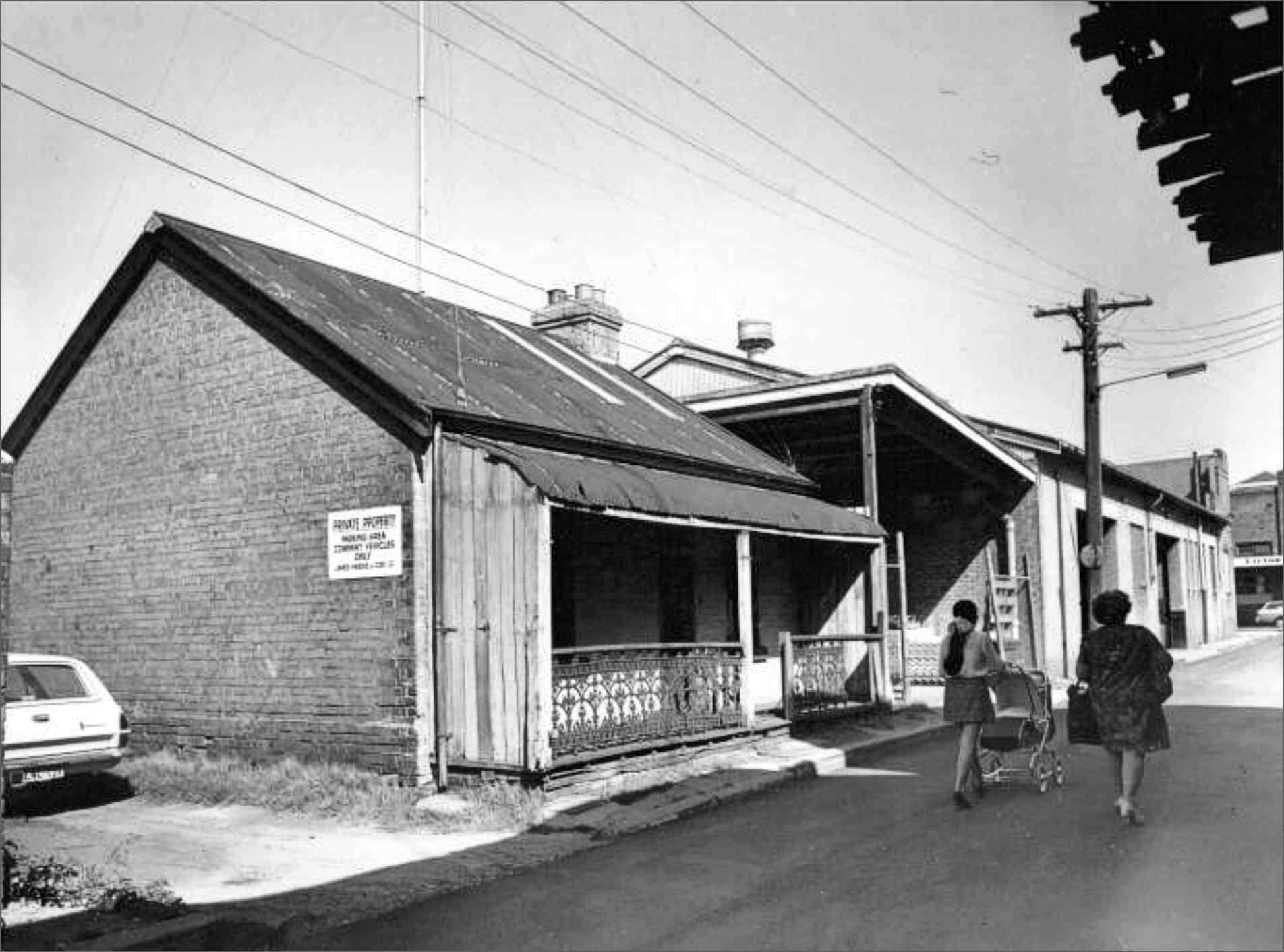 Union Lane in 1971 looking towards King Street. Photo credit: K. Edwards, NCC Photobank
WATER PRESSURE UNDER PRESSURE
The usual weekly meeting of the Hunter District Water Supply and Sewerage Board was held at their offices, Newcastle yesterday (Tuesday, 16 October, 1900) at 10 a.m.
The engineer submitted a report, together with a plan and estimated cost for the improvement of the water supply In Hunter-street West and neighbourhood, and pointed out that the present main and its continuation into Charlton-street and Maitland-road, that is, from Union-street, Newcastle, to Railway-street, which was only four-inch, and was becoming too small for the growing demands upon the supply.
The main was now laid along the southern side of the street, and services to premises on the other side had to be carried under the tramlines. In the event of a fire taking place on the northern side of the roadway, either the tram traffic would have to be stopped, or the line of hose uncoupled to allow trams to pass.
It was therefore the opinion of the engineer that the supply generally should be improved, and he recommended that a six-inch water main should be laid from the existing main at Carrington Bridge, along the northern footpath of Hunter-street and Charlton-street to Railway-street, Wickham, where it would be connected to an other six-inch main. This would mean a length of 1364 yards.
A branch pipe should be laid in Cooper-street, Wickham, to connect to the dead end in Doctor's-lane, and the end of the pipe in Union-lane to be connected to the seven-inch main in Hunter-street. The total cost of the work was estimated at £741 14s.
The whole matter was considered at length by the board, and as it was apparent that the proposed improvements were now rendered quite necessary, owing to the increased requirements for Water.
A JUVENILE OFFENDER.
Alexander Mason, 11 years of age, was charged with stealing a cash box containing two sovereigns, a half-sovereign, £2 16s in silver and copper, a £1 bank-note, and a quantity of coupons and receipts, the property of George Ford, at Newcastle, on the 7th September, 1903.
Accused said he stole the cash-box from Mr. Ford's shop because he wanted a new suit. He said that the cash-box contained in all £5 14s, and that he had purchased a new suit of clothes, shirt front, cap, collar, and a pair of boots, Constable Robertson said. The receipts for the articles purchased were obtained from beneath a house In Union-lane, and the cash-box was found concealed in the long grass behind the hospital.
William Riley, a coal-trimmer, residing at Union-lane, had. the fingers of his left hand crushed in one of the cranes at Carrington yesterday morning (7 June, 1904). He was conveyed to the Newcastle Hospital, where tho top joint of the middle finger was amputated.
DROWNING VICTIM "OCCASIONALLY TOOK A SORT OF FIT"
The circumstances of the death of Thomas Penman, an elderly man who was found drowned on the beach at Newcastle south on Thursday, formed the subject of an inquiry by Mr. C. Hibble, the District Coroner, at the Newcastle Courthouse yesterday, Friday, 1 November, 1912. Constable H. Roberts represented the police. Dr. John Harris stated that he had examined the body at the morgue and, from what he had found, his opinion was that death was due to drowning. Death had probably taken place 18 or 20 hours previously.
William Charles Penman stated that he lived in Union-lane, Newcastle West. He saw a body at the morgue on Thursday and recognised it as that of his father. Deceased was a miner, and had lived with witness. He was a native of Midlothian, Scotland, and was 58 years of age.
He was not at work. Witness last saw him at 9 p.m. on Wednesday and he was in his usual spirits. He had fairly good health but occasionally took a sort of fit. On some days, he might take two or three fits in a day. The beach at Merewether was his favourite walk.
HEALTH OF THE CITY
During the past fortnight of August, 1917, the medical profession notified the undermentioned councillors cases of infectious diseases: City Ward: Diphtheria, three cases, imported from Wickham, Charlestown, and Carrington; three cases local; epidemic cerebro-spinal fever, imported from Morisset.
In General Matters, Alderman Gibson asked that Cottage Creek drain be cleaned out. Alderman Coleman referred to the state of Anzac-parade, and Alderman Cornish to the state of Union-lane. He also complained of a certain portion of Hunter street West, and asked that there should be a proper regulation of the road traffic.
In Newcastle, half way through May of 1919, nine new cases of influenza were admitted to the Waratah Hospital, eight from Newcastle, of which six were from one house, and one from Islington.
Last night the death occurred in the Waratah Hospital of James Buxton, driver of the horse ambulance. The deceased, who was 45 years of age and lived in Union-lane, Newcastle, was admitted to the hospital on May 8.
The condition of the patients was reported last night as follows: Dangerously ill, three; seriously ill, seven; ill, 79; convalescent, 45. There were no patients discharged yesterday. Four patients (all from Wallsend) were admitted to the Wallsend Emergency hospital yesterday. There are now thirty three patients in the hospital, and last night their condition was reported as follows: Critically ill, three; dangerously ill, two; seriously ill, six; ill; seventeen; and convalescent, five.
In better news, Mrs. Peterson, of Union-lane, Newcastle, was notified that her husband is returning home by a transport which is due in Melbourne on April 14, 1919. Before enlisting he was employed by Mr. H. Bramble, of Newcastle.
FIRE IN THE BAKEHOUSE
At four o'clock yesterday morning – 21 August, 1919 – a man called at the headquarters of the Newcastle Fire Brigade, and reported that W. Cann's bakery in Union Lane was well alight. District-officer Hillier, with Station-officer Harper, and a motor detachment turned out, and also ordered out Newcastle East.
It was found on arrival that the fire had secured a firm hold in the No.1 bakehouse, a two-storied structure scrupled by Messrs. Payne and Clayton, who carry on business as W. Cann. Fortunately there was excellent pressure of water available.
The fire was caused through some baker's wood which was placed it an oven, and also stacked outside the oven to dry, becoming ignited. There have been three previous fires at those premises: on December 12, 1913; February 21, 1915; and March 2, 1918.
Below, men, women, and children queue outside Mr Parker's bakehouse in Union Lane. Also, Mr Parker and Mr Wilkinson stack hot loaves ready for sale. The Bakery's output yesterday was four times the normal amount ~ The Newcastle Morning Herald, 4 November, 1947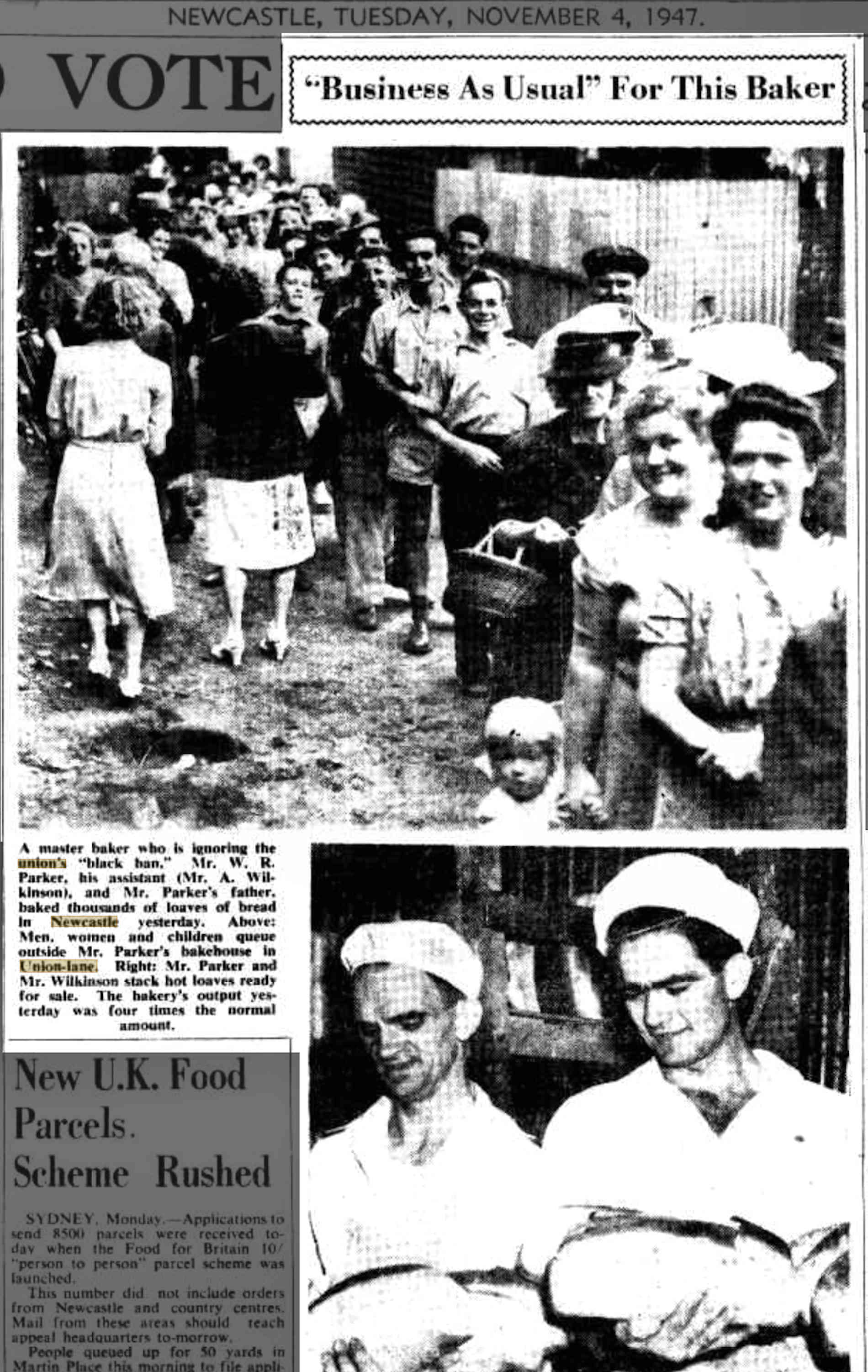 NEWCASTLE POLICE COURT.
FRIDAY, DECEMBER 14, 1923. (Before Mr. J. W. M. Laidlaw, S.M.) Riotous Behaviour. William Gallagher, 37, was fined £2, with the alternative of seven days' imprisonment, for riotous behaviour in Union-lane on the previous day.
Vagrancy. (Unrelated to our now famous Union Lane, yet poignantly demanding a mention…) Pending his removal to the Waratah Benevolent Home, Julius Rafasdross, 84, was sentenced to be imprisoned for three hours on a charge of vagrancy.
DID THE CUNNING RESIDENTS OF UNION LANE ELUDE THEIR INDEMNITY?
On 8 April, 1924, reporting upon a letter from solicitors Messrs. Braye and Cohen, who asked for information regarding certain lanes adjacent to the Exchange Hotel, the city engineer stated he had gone into the records of the council and found that Union-lane was dedicated to the council.
With regard to the other two lanes referred to, it would be impossible to definitely say. Certainly no work had been done on them by the council. The matter was referred to later in the meeting by Alderman Creer, who said there were other lanes that might be of great importance to the council, because he could see the necessity of linking up streets to relieve congested traffic. He moved that the city engineer be asked to report on the circumstances of the whole of the lanes between Darby-street and Union street.
CHILD SAVAGED
Dog's Vicious Attack. LIP BITTEN THROUGH. City Desk, November 28, 1930.
Savaged by a snarling dog, a child had her upper lip bitten through in Newcastle late yesterday afternoon.
She was taken to the General Hospital, where an anaesthetic was administered before treatment. It appears that the child – Virley Sanders, 9, of Union-lane, Newcastle – toddled over to the dog, which was chained, and stretched out a baby hand, confidently. Some food had been given to the dog a short while previously. With a menacing growl, he viciously attacked the child, biting her in the tipper lip, in the right cheek, and underneath an ear.
Alarmed by the commotion, a girl who was In the house rushed into the yard, where she saw the dog standing over the child, who was bleeding copiously. The dog was "shooed" away from its little victim, who was conveyed to the hospital by Newcastle Ambulance. After treatment, she was taken back to her home. It is understood that the dog is to be destroyed.
On 11 December, 1931, Harry Goldman, baker, and George Smith, baker, both of Union Lane (off Hunter Street), Newcastle, were proceeded against by Inspector F. T. Sandow, under the Early Closing Act, on an information alleging that they had made bread for sale before 5:30 am on November 19. The defendants pleaded "Not guilty."
A RASH OF INDECENCIES
History snippets wouldn't be believable as a potted history by omitting an indecent behaviour report. For having behaved in an indecent manner in Union-lane, Newcastle West, on May 26, 1934, Frederick James Peterson, 45, labourer, was fined £1, in default two days' imprisonment.
David Gow, 40, labourer, was fined £2, in default four days' imprisonment, for halving behaved in an indecent manner in Union-lane, Newcastle, on December 8, 1934. The same penalty was imposed on Edward Limeburner, 49, labourer. for a similar offence in Daniel-street, Islington, on December 8.
"EARLY RISER"
MADE PASTRY TOO EARLY. For having made pastry for sale before 5.30 a.m. on November 15, 1935, John Henry Meyer, Union-lane, Newcastle, was fined £3, costs 8 shillings, in default imprisonments for seven days. An employee, Lance Glover, Union-lane, Newcastle, was fined £2, costs 8 shillings, in default imprisonment for five days. Mr. H. L. Wheeler (Messrs. Harris, Wheeler and Williams), who appeared for both defendants, said that a clause in the award had been read by the defendant, Meyer, to mean that an employee would he allowed to start early provided extra time was paid. That had been done.
Meyer's at it again… or is he just unlucky?
A few months later, Mary Hunter Sneddon, of Silsoe-street, Hamilton, sued John Henry, Meyer, pastry cook, of Union-lane, Newcastle, for the recovery of £5/5/ due for one week's rent, and two weeks' rent in lieu of notice. Mr. J. S. Johnson (Messrs. Johnson and O'Neill) represented the plaintiff, and Mr. J. K. Williams (Messrs. Harris, Wheeler and Williams) appeared for the defence.
A verdict for the amount claimed, with 9 shillings costs, was returned in favour of the plaintiff. Plaintiff said that Meyer asked that the lease he held be cancelled. She agreed providing that Meyer continued in residence until she obtained a tenant. Meyer left the place before she should secure another tenant. In defence, Meyer, said he had left the place because he was not in a position to pay the rent, he did not think he was liable for the fortnight's rent in lieu !of notice, because he understood that the conversation he had with the plaintiff was sufficient notice.
KING STREET TO BE WIDENED (YEAH, RIGHT)
Newcastle City Council, which held its last meeting for 1937 last night (13 December), reaffirmed its decision to plan towards the ultimate widening of King-street, to make it a second main city thoroughfare.
The City Engineer reported that a building application for brick store and offices had been received from Messrs. Oldham and Lees on behalf of Hardie and company, the building being set to conform to the existing alignment, at the intersection of King-street and Union-lane. The council had fixed a building line in this vicinity to permit of King-street being ultimately widened to 80ft. and the bend adjacent to Union-lane reduced, with a view to improving visibility. Aid. Young said it should be clearly understood that it was the council's policy to widen the street. The widening was necessary, but it would be unfair to Hardie and Company if they were forced back to the new alignment and nothing further was ever done about it.
LADY BARTON'S DEATH ON 23RD MARCH, 1938
LADY BARTON: HER EARLY LIFE IN NEWCASTLE ~ The death in Sydney this week (March, 1938) removed one who, during her long life, had been a notable figure in the public life of the Commonwealth.
This was Lady Barton, widow of our first Prime Minister.
PICTURED ~ JANE BARTON IN 1930
Her girlhood was spent in Newcastle. She was the daughter of Mr. David Ross, described by one who knew the family well in those far-away days, as "a good type of the old Scot."
Mr. Ross was the proprietor of the Union Inn. It has disappeared from the scene; but to older Newcastle people it is remembered as occupying portion of the site on which the warehouse of Messrs. J. Mackie and Company Ltd. stands, at the corner of Hunter-street and Union-lane.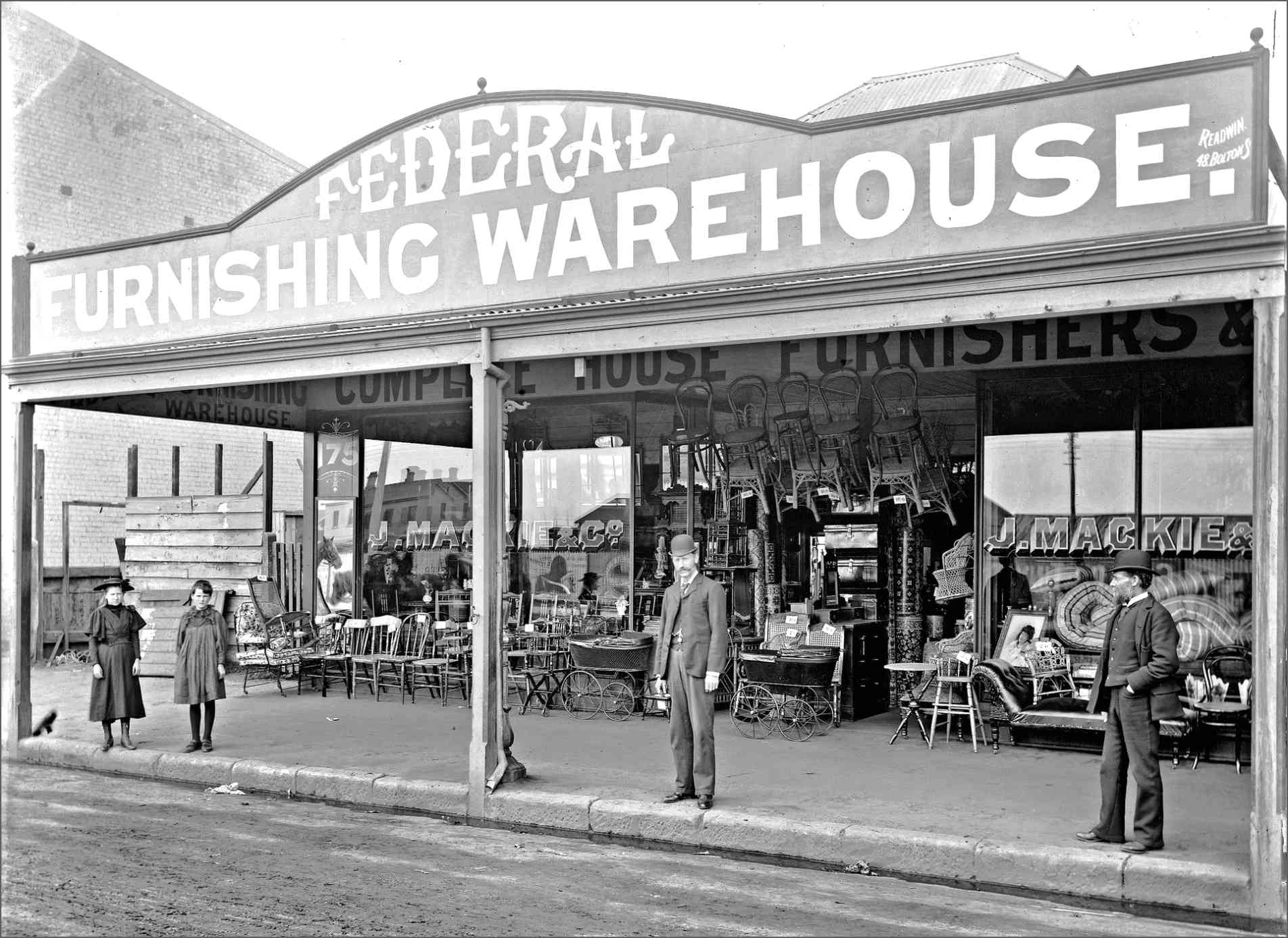 Mcckies store replaced the Union Inn in Blane Street (Now Hunter Street 'west'). This photo is annotated as that address and bears the number 175 above the mirror at left, that also shows a patient horse. Photo credit: Ralph Snowball collection at UON CULTURAL COLLECTIONS.
His hotel was known far and wide, and always attracted its share of visitors and guests. It was here that Jeanie (Jane Mason) Ross – the Lady Barton of later days – spent many years. Here she met her future husband, who was destined to take so distinguished a place in the political and judicial life of this continent. Edmund Barton was visiting Newcastle in 1870 with the Sydney University Cricket Club.
In those days there was, as there is to-day, a frequent steamer service between the two cities. It is only within the last half-century that travellers could mako the journey between Newcastle and Sydney by train. About 50 years have elapsed since the bridge across the Hawkesbury River was built. Week-end excursions by steamer were frequent before that.
NOT WOMEN'S WORK!
The Furnishing Trades Society of New South Wales complained that two girl minor employees, Joyce Flanagan and June Flanagan, had between May 26 and July 28, 1939, not been paid award wages and had been worked contrary to the award by the Austral Furnishing Company, of Union-lane, off Hunter-street.
The company was ordered to pay a penalty of £2, with £1 19s costs and expenses. For the society It was stated by Mr O. Shreiber that the girls had been doing upholstery work which was contrary to the award.
Women were only allowed to do sewing, leaving the main business of upholstery to men.
IT ALWAYS COMES DOWN TO CARS AND SIGNAGE
Parking Ban In Union Lane
Police have prohibited parking during business hours in Union Lane, Newcastle, between King and Hunter-streets.
The Police Department advised the Newcastle Council Health Committee last night that the parking ban should ease the traffic problem in Union Lane.
Signs advising: motorists of the new restrictions would be put up as soon as possible after 24 February, 1954.
Now for the street art
Some of our images below are watermarked "Graffiti Junction" which is an old domain name belonging to NewcastleOnHunter.
And yes, all artwork is copyright their respective artists, and photographs are copyright NewcastleOnHunter.com but can be reproduced under a Creative Commons non-commercial share-alike with attribution. But be careful with remixing, as the artwork is, as mentioned, under artists' copyright. – even non-commissioned art.
2004
Down the lane from Hunter Street
Looking towards Hunter Street
Click the image below for an interactive panorama which opens in a separate window/session. Use player controls, or drag and zoom with mouse or gesture.

2008
UNION LANE VIEW OFF HUNTER STREET IN 2008.
UNION LANE VIEWED TOWARDS KING STREET FROM HUNTER ST.
VIEW TOWARDS HUNTER ST.
VIEW TOWARDS HUNTER ST. FROM WHERE THE WIDE SECTION ENDS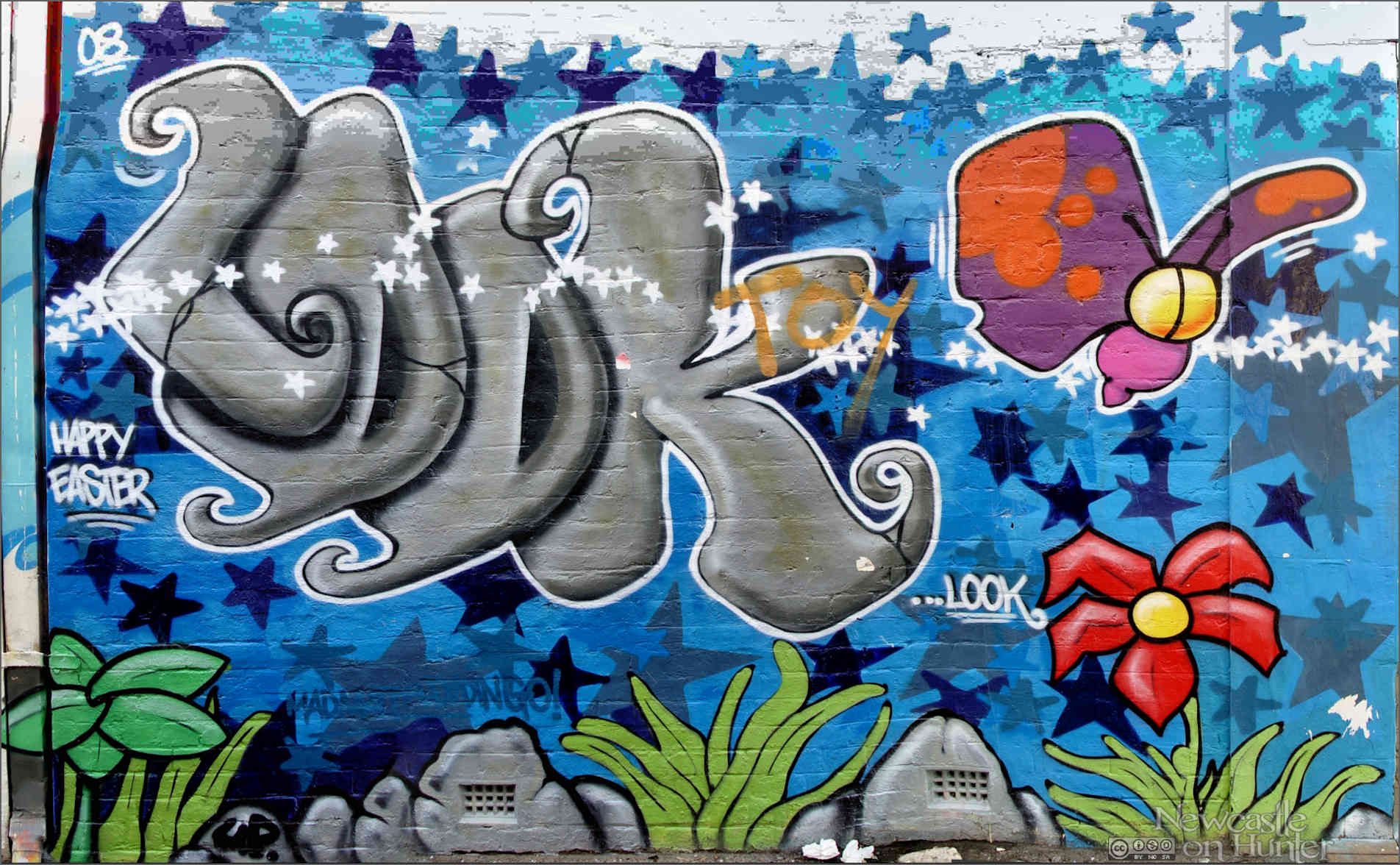 Click the image below for an interactive panorama which opens in a separate window/session. Use player controls, or drag and zoom with mouse or gesture.
Click the image below for an interactive panorama which opens in a separate window/session. Use player controls, or drag and zoom with mouse or gesture.
Click the image below for an interactive panorama which opens in a separate window/session. Use player controls, or drag and zoom with mouse or gesture.
2014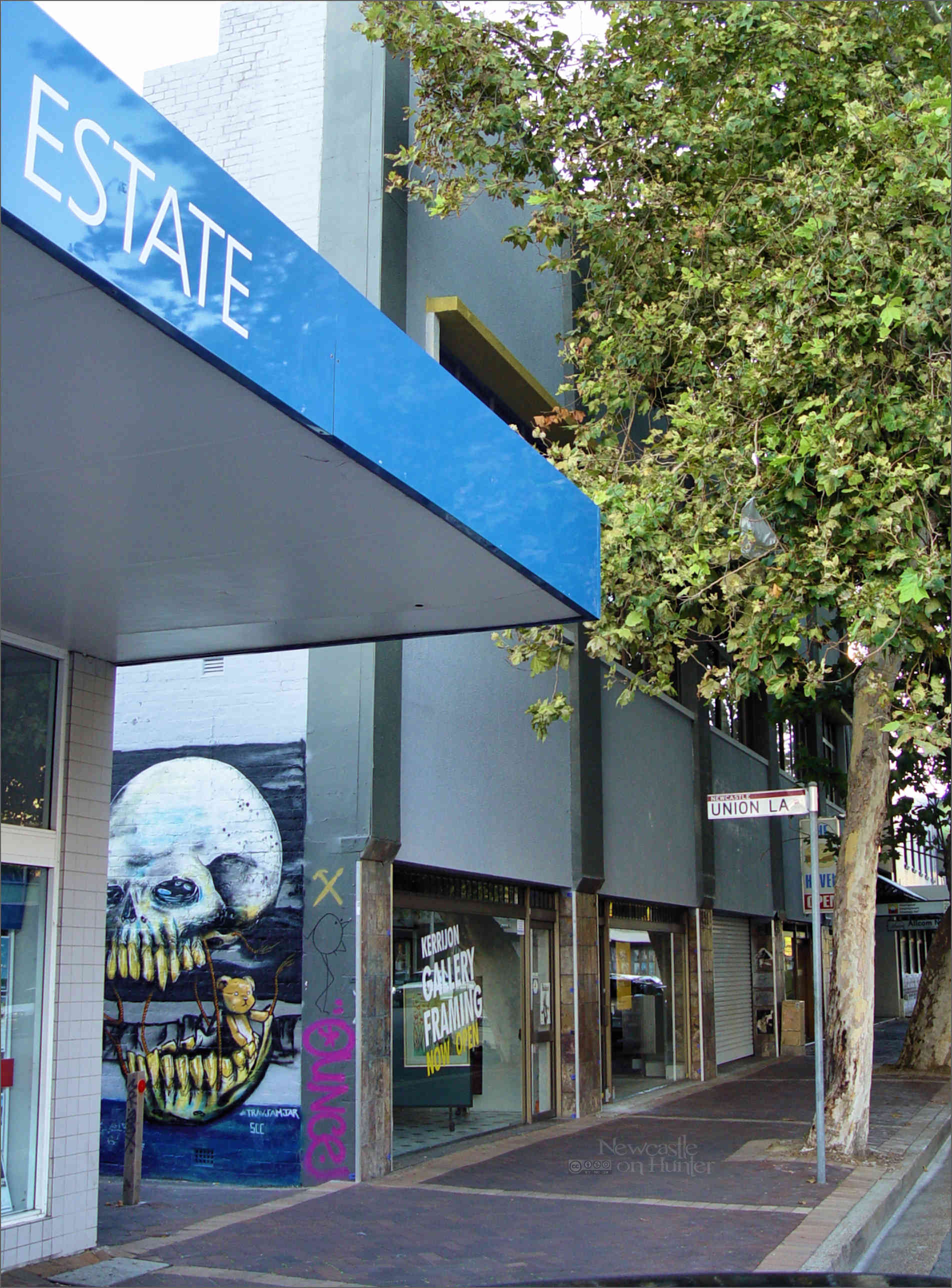 UNION LANE OFF HUNTER STREET, NEWCASTLE WEST, IN 2014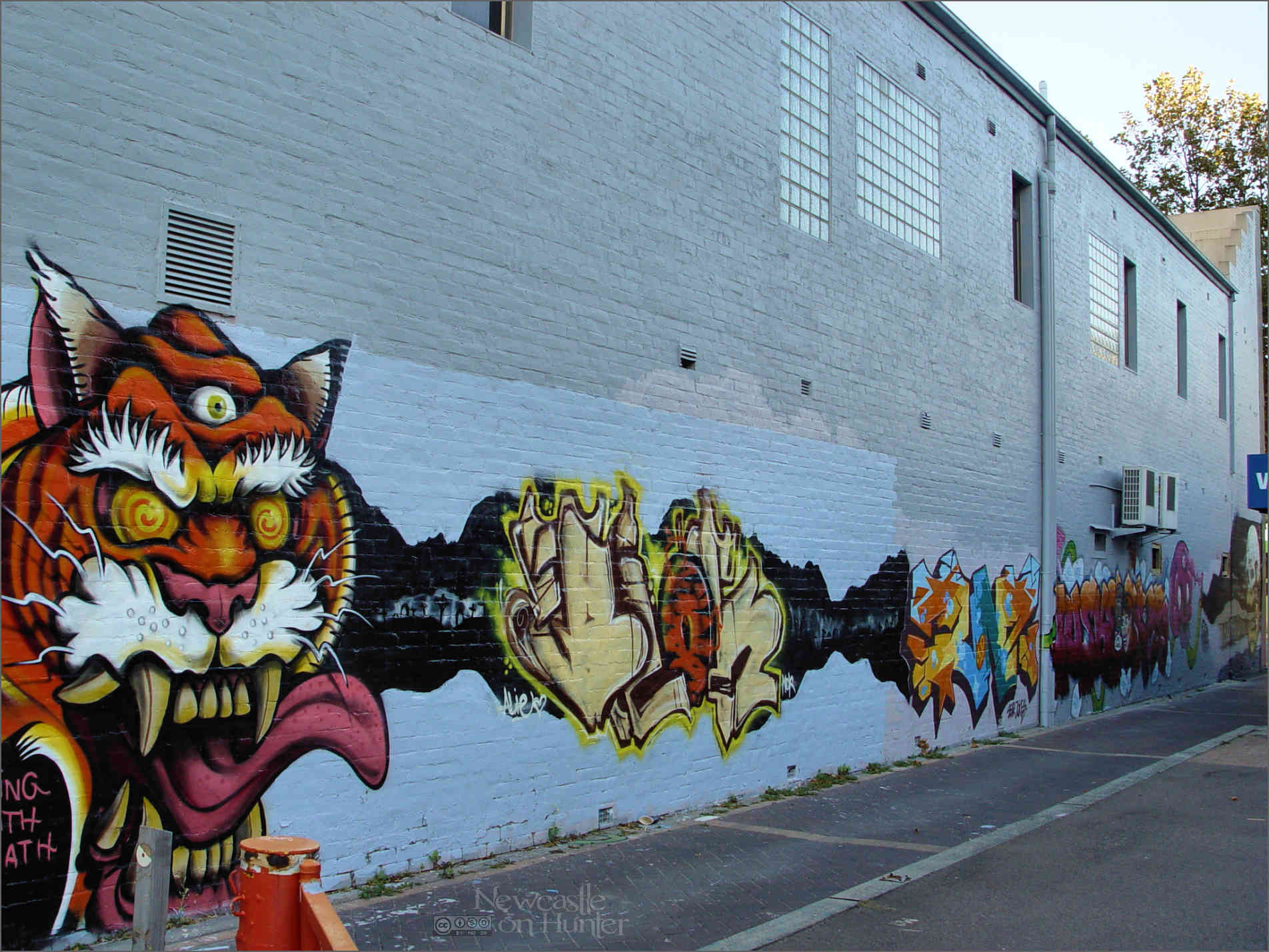 VIEWED TOWARDS HUNTER STREET FROM END OF WIDER UNION LANE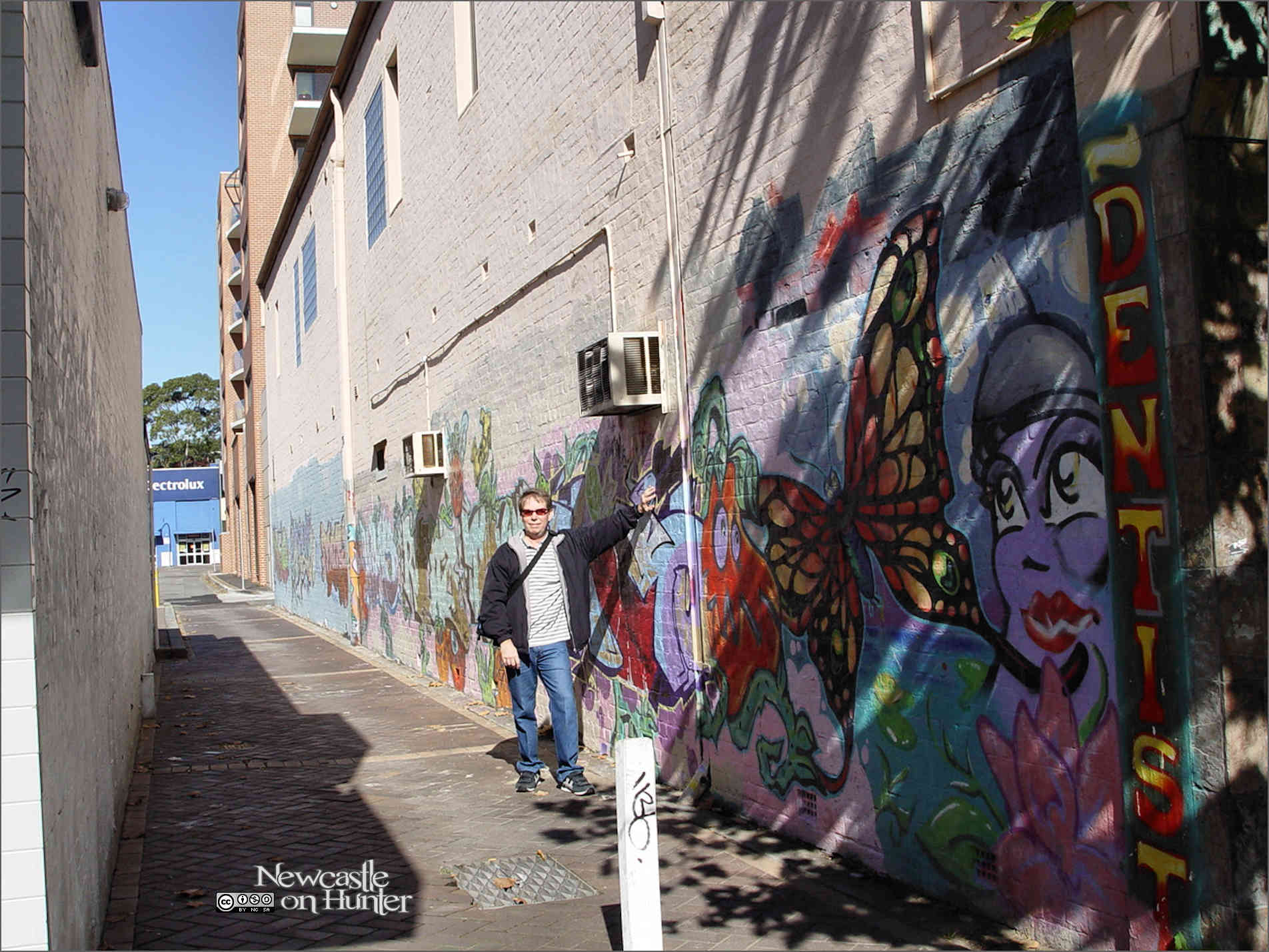 THROSBY LOVES STREET ART