Eleven o'clock departure time was an hour ago, yet Newcastle Harbour lay wide, flat, blue… and empty.
MV Pasha Bulker leaves Newcastle Harbour 26 July 2007 for repairs in Japan


There was no sign that an injured Panamax freighter was about to leave the people of this busy little sea port, to whom it became so endeared.
A march of waves slapping rocks caught our attention: "Perhaps we missed it!" someone chuckled, creating a ripple of giggles.
Another: "Well, if the choppers are circling it, then it must be heading upstream towards Tomago shipyards" and the amiable crowd tittered some more.
"It must have run aground in the basin" was another theory to explain the non-appearance of Pasha Bulker, off to Asia to have its buckled hull repaired.
"Well, there's five tugs this time, not the usual three. Maybe they're all tangled and trying to sort the mess!"
After all, we had to amuse ourselves in the absence of the star attraction, "it," the coal freighter Pasha Bulker whose astonishing arrival on a city beach in a wild May storm was the most sensational event in decades.
Newcastle Port Corporation dredge, David Allan, chugged by for the umpteenth time, paranoid perhaps the channel had suddenly developed a threat to embarrass the Port – if not the embarking guest of honour – by some far-fetched mishap.
"Let's just check silting one more time," one imagines the Captain, "Line 'er up, lads."
Led by the tug Wickham past a sunlit cityscape, Pasha Bulker is the day's talking point


The first chopper that morning was Australian Broadcasting Commission's sleek silver whirlybird that thundered into Newcastle's perfect crisp July morning from down south.
With a commanding sweep of the harbour it parked over Eastern Basin where the Pasha Bulker eased from it's cosy berth near the wheat silos, scene of many grand launchings in Newcastle's now-forgotten ship building days.
Soon Big Red, Seven's Network chopper, arrived. Then two Hunter Valley tour helicopters and, cacophony yet wanting, more Sydney TV eggbeaters pounded into earshot, all swarming like Hexham Grey mosquitoes mistaking harbour for swampland.
Shores north and south of Newcastle Harbour were packed – I say, packed - with delighted and curious sightseers, both locals and visitors.
The day was balmy, clear, blue-skied and bright, with a gentle cooling breeze.
Image right: Fort Scratchley fires a four-cannon salute in honour of a common little ship that became so special


It was simply the most stunningly-perfect Newcastle day for a unique harbour spectacle.
Busloads of school students manned the northern breakwater to witness an historic juxtaposition: the Pasha Bulker, rare survivor of coastal peril, gliding by the rusting hulks of unfortunate predecessors eternally at rest within the rocky barricade on which the children stood.
This beautiful day, this glorious vista of Newcastle headland, sand, and sea, held an irony for the young scholars, that innumerable broken ships, Oyster Bank victims, formed the harbour's northern breakwater.. and just meters away in sleek silent passage our lady of the sea, the Pasha Bulker, bruised and scarred, cruised seaward having escaped both sudden death on coastal rocks or lingering ignominious decay on a city beach.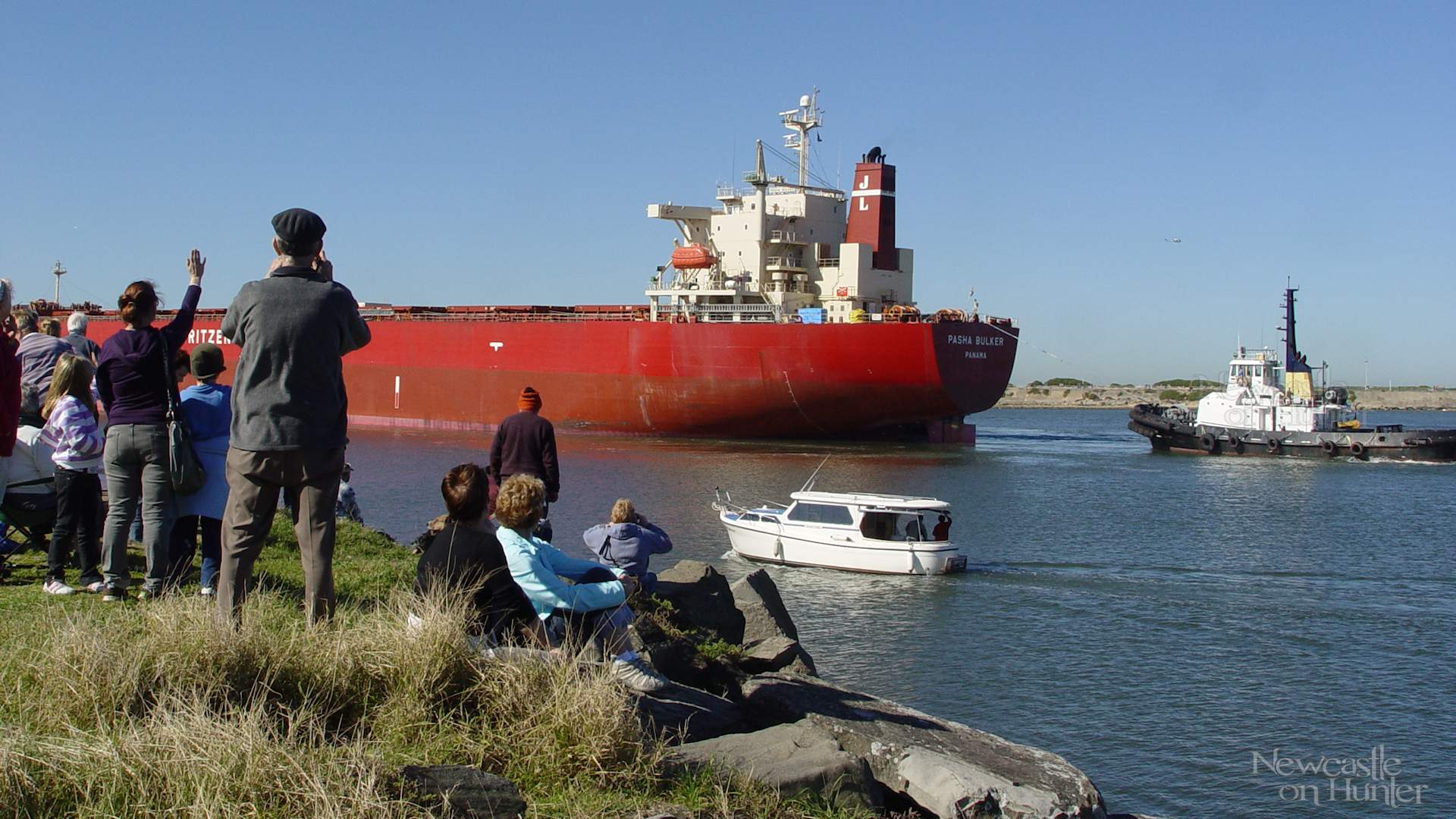 And past us she went, shiny and clean in silent efficiency, filling the channel with red and cream hugeness, a large yellow bungee strap hanging from bow, two big staples mending her side, all in spectacle and ceremony - yet with respect and humility.
People and vehicles simply packed the northern shore, from the breakwater's seaward tip to the passenger ferry terminal in Stockton's Griffith Park.
Every southern vantage, from Horseshoe beach through Queens Wharf to Honeysuckle, bore unprecedented crowds... for a mere Panamax coal ship!
NBN Television journalist Jane Goldsmith and newscamera Michael Rauch capture the moment of the decade


Who onshore would know the emotions of those on-board the Pasha Bulker as she swept briskly along the channel to Nobbys?
Seafarers perhaps in curious surprise at so many people lining the shore - by any standard an immense crowd for this small port.
Would Pasha Bulker's crew finally grasp theirs and the ship's role in this event? No idly-curious gathered to gaze, no bored city residents sought entertainment. Instead, thousands of appreciative eyes followed an injured ship.
A consensus wave of relief flowed to a stricken seafaring lady, a welling surge of goodwill propelled her homeward.
This was no mob of gawky sightseers, but a giant communal encouragement, a show of appreciation for men and ships that are still the life blood of this great port and seafaring nation.
Each time one of these magnificent vessels tests the brink of survival, they become suddenly alive, gathering, as a symbol, tributes and attention normally unexpressed towards the convoy floating just off our coast.
Newcastle… loves ships.
Novocastrians, by the simple presence of a port, feel empathy and duty towards ships.
We feel pride when they arrive, pride when they leave.




For more information, see a detailed account of the beaching and re-floating at Wikipedia – click here. The article is about the MV Drake, to which Pasha Bulker was renamed.
Pasha Bulker passing rocks beside Newcastle Ocean Baths and on its way to Nobbys Beach
MV Sygna aft section on Stockton Bight circa 1980 after beaching in 1974 under similar circumstance to Pasha Bulker

More on Sygna at Wikipedia – click here